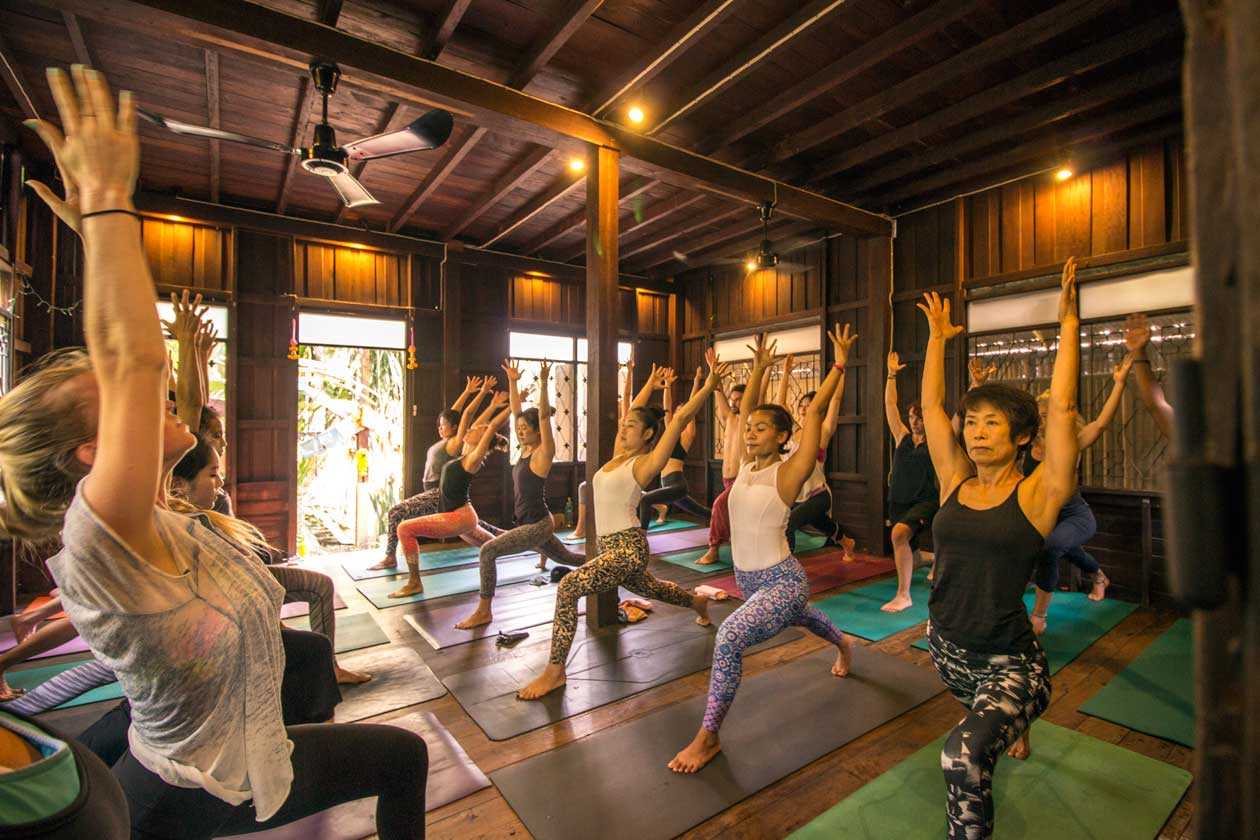 250 THB Drop in or Class Pass Inclusive
 PLEASE ARRIVE 30 MINS. BEFORE A CLASS for CHECK IN AND REGISTRATION
Multi-Level Vinyasa with Kru May is a dynamic, energizing and high tempo vinyasa flow.  In this drop-in vinyasa yoga class we connect the breath to movement in a rhythmic invigorating intermediate level vinyasa.
Variations will be offered to accommodate multi-level intermediate yoga  students. Multi-level yoga at Wild Rose Yoga Chiang Mai is suited for students with an understanding of foundational yoga postures, willing to explore asana (yoga postures) variations through an invigorating conditioning yoga class.
Join us for a drop-in yoga class at Wild Rose Yoga Chiang Mai, in the Old City to explore the joy of a creative vinyasa yoga class.
Class Timetable
| | Open Time | Close Time | Trainer | Address |
| --- | --- | --- | --- | --- |
| August 29, 2019 | 10:00 am | 11:30 am | Yoga Class Focus – Fusion Vinyasa Flow | Wild Rose Yoga Studio Chiang Mai Thailand |
| April 2, 2022 | 10:00 am | 11:30 am | Yoga Class Focus – Fusion Vinyasa Flow | Wild Rose Yoga Studio Chiang Mai Thailand |
| April 5, 2022 | 10:00 am | 11:30 am | Yoga Class Focus – Fusion Vinyasa Flow | Wild Rose Yoga Studio Chiang Mai Thailand |
| April 7, 2022 | 10:00 am | 11:30 am | Yoga Class Focus – Fusion Vinyasa Flow | Wild Rose Yoga Studio Chiang Mai Thailand |
| April 9, 2022 | 10:00 am | 12:00 pm | Yoga Class Focus – Fusion Vinyasa Flow | Wild Rose Yoga Studio Chiang Mai Thailand |
| April 12, 2022 | 10:00 am | 11:30 am | Yoga Class Focus – Fusion Vinyasa Flow | Wild Rose Yoga Studio Chiang Mai Thailand |
| April 26, 2022 | 10:00 am | 11:30 am | Yoga Class Focus – Fusion Vinyasa Flow | Wild Rose Yoga Studio Chiang Mai Thailand |
| April 28, 2022 | 10:00 am | 11:30 am | Yoga Class Focus – Fusion Vinyasa Flow | Wild Rose Yoga Studio Chiang Mai Thailand |
| April 30, 2022 | 10:00 am | 11:30 am | Yoga Class Focus – Fusion Vinyasa Flow | Wild Rose Yoga Studio Chiang Mai Thailand |
| May 3, 2022 | 10:00 am | 11:30 am | Yoga Class Focus – Fusion Vinyasa Flow | Wild Rose Yoga Studio Chiang Mai Thailand |
| May 5, 2022 | 10:00 am | 11:30 am | Yoga Class Focus – Fusion Vinyasa Flow | Wild Rose Yoga Studio Chiang Mai Thailand |
| May 7, 2022 | 10:00 am | 11:30 am | Yoga Class Focus – Fusion Vinyasa Flow | Wild Rose Yoga Studio Chiang Mai Thailand |
| May 4, 2022 | 5:30 pm | 7:00 pm | Yoga Class Focus – Fusion Vinyasa Flow | Wild Rose Yoga Studio Chiang Mai Thailand |
| May 11, 2022 | 5:30 pm | 7:00 pm | Yoga Class Focus – Fusion Vinyasa Flow | Wild Rose Yoga Studio Chiang Mai Thailand |
| May 12, 2022 | 10:00 am | 11:30 am | Yoga Class Focus – Fusion Vinyasa Flow | Wild Rose Yoga Studio Chiang Mai Thailand |
| May 14, 2022 | 10:00 am | 11:30 am | Yoga Class Focus – Fusion Vinyasa Flow | Wild Rose Yoga Studio Chiang Mai Thailand |
| May 15, 2022 | 10:00 am | 11:30 am | Yoga Class Focus – Fusion Vinyasa Flow | Wild Rose Yoga Studio Chiang Mai Thailand |
| May 17, 2022 | 10:00 am | 11:30 am | Yoga Class Focus – Fusion Vinyasa Flow | Wild Rose Yoga Studio Chiang Mai Thailand |
| May 18, 2022 | 5:30 pm | 7:00 pm | Yoga Class Focus – Fusion Vinyasa Flow | Wild Rose Yoga Studio Chiang Mai Thailand |
| May 19, 2022 | 10:00 am | 11:30 am | Yoga Class Focus – Fusion Vinyasa Flow | Wild Rose Yoga Studio Chiang Mai Thailand |
| May 24, 2022 | 10:00 am | 11:30 am | Yoga Class Focus – Fusion Vinyasa Flow | Wild Rose Yoga Studio Chiang Mai Thailand |
| May 21, 2022 | 10:00 am | 11:30 am | Yoga Class Focus – Fusion Vinyasa Flow | Wild Rose Yoga Studio Chiang Mai Thailand |
| May 25, 2022 | 5:30 pm | 7:00 pm | Yoga Class Focus – Fusion Vinyasa Flow | Wild Rose Yoga Studio Chiang Mai Thailand |
| August 2, 2022 | 10:00 am | 11:30 am | Yoga Class Focus – Fusion Vinyasa Flow | Wild Rose Yoga Studio Chiang Mai Thailand |
| May 28, 2022 | 10:00 am | 11:30 am | Yoga Class Focus – Fusion Vinyasa Flow | Wild Rose Yoga Studio Chiang Mai Thailand |
| May 26, 2022 | 10:00 am | 11:30 am | Yoga Class Focus – Fusion Vinyasa Flow | Wild Rose Yoga Studio Chiang Mai Thailand |
| August 3, 2022 | 5:30 pm | 7:00 pm | Yoga Class Focus – Fusion Vinyasa Flow | Wild Rose Yoga Studio Chiang Mai Thailand |
| August 4, 2022 | 10:00 am | 11:30 am | Yoga Class Focus – Fusion Vinyasa Flow | Wild Rose Yoga Studio Chiang Mai Thailand |
| August 6, 2022 | 10:00 am | 11:30 am | Yoga Class Focus – Fusion Vinyasa Flow | Wild Rose Yoga Studio Chiang Mai Thailand |
| August 11, 2022 | 10:00 am | 11:30 am | Yoga Class Focus – Fusion Vinyasa Flow | Wild Rose Yoga Studio Chiang Mai Thailand |
| August 13, 2022 | 10:00 am | 11:30 am | Yoga Class Focus – Fusion Vinyasa Flow | Wild Rose Yoga Studio Chiang Mai Thailand |
August 29, 2019
10:00 am -
11:30 am
- with Yoga Class Focus – Fusion Vinyasa Flow
- at Wild Rose Yoga Studio Chiang Mai Thailand
April 2, 2022
10:00 am -
11:30 am
- with Yoga Class Focus – Fusion Vinyasa Flow
- at Wild Rose Yoga Studio Chiang Mai Thailand
April 5, 2022
10:00 am -
11:30 am
- with Yoga Class Focus – Fusion Vinyasa Flow
- at Wild Rose Yoga Studio Chiang Mai Thailand
April 7, 2022
10:00 am -
11:30 am
- with Yoga Class Focus – Fusion Vinyasa Flow
- at Wild Rose Yoga Studio Chiang Mai Thailand
April 9, 2022
10:00 am -
12:00 pm
- with Yoga Class Focus – Fusion Vinyasa Flow
- at Wild Rose Yoga Studio Chiang Mai Thailand
April 12, 2022
10:00 am -
11:30 am
- with Yoga Class Focus – Fusion Vinyasa Flow
- at Wild Rose Yoga Studio Chiang Mai Thailand
April 26, 2022
10:00 am -
11:30 am
- with Yoga Class Focus – Fusion Vinyasa Flow
- at Wild Rose Yoga Studio Chiang Mai Thailand
April 28, 2022
10:00 am -
11:30 am
- with Yoga Class Focus – Fusion Vinyasa Flow
- at Wild Rose Yoga Studio Chiang Mai Thailand
April 30, 2022
10:00 am -
11:30 am
- with Yoga Class Focus – Fusion Vinyasa Flow
- at Wild Rose Yoga Studio Chiang Mai Thailand
May 3, 2022
10:00 am -
11:30 am
- with Yoga Class Focus – Fusion Vinyasa Flow
- at Wild Rose Yoga Studio Chiang Mai Thailand
May 5, 2022
10:00 am -
11:30 am
- with Yoga Class Focus – Fusion Vinyasa Flow
- at Wild Rose Yoga Studio Chiang Mai Thailand
May 7, 2022
10:00 am -
11:30 am
- with Yoga Class Focus – Fusion Vinyasa Flow
- at Wild Rose Yoga Studio Chiang Mai Thailand
May 4, 2022
5:30 pm -
7:00 pm
- with Yoga Class Focus – Fusion Vinyasa Flow
- at Wild Rose Yoga Studio Chiang Mai Thailand
May 11, 2022
5:30 pm -
7:00 pm
- with Yoga Class Focus – Fusion Vinyasa Flow
- at Wild Rose Yoga Studio Chiang Mai Thailand
May 12, 2022
10:00 am -
11:30 am
- with Yoga Class Focus – Fusion Vinyasa Flow
- at Wild Rose Yoga Studio Chiang Mai Thailand
May 14, 2022
10:00 am -
11:30 am
- with Yoga Class Focus – Fusion Vinyasa Flow
- at Wild Rose Yoga Studio Chiang Mai Thailand
May 15, 2022
10:00 am -
11:30 am
- with Yoga Class Focus – Fusion Vinyasa Flow
- at Wild Rose Yoga Studio Chiang Mai Thailand
May 17, 2022
10:00 am -
11:30 am
- with Yoga Class Focus – Fusion Vinyasa Flow
- at Wild Rose Yoga Studio Chiang Mai Thailand
May 18, 2022
5:30 pm -
7:00 pm
- with Yoga Class Focus – Fusion Vinyasa Flow
- at Wild Rose Yoga Studio Chiang Mai Thailand
May 19, 2022
10:00 am -
11:30 am
- with Yoga Class Focus – Fusion Vinyasa Flow
- at Wild Rose Yoga Studio Chiang Mai Thailand
May 24, 2022
10:00 am -
11:30 am
- with Yoga Class Focus – Fusion Vinyasa Flow
- at Wild Rose Yoga Studio Chiang Mai Thailand
May 21, 2022
10:00 am -
11:30 am
- with Yoga Class Focus – Fusion Vinyasa Flow
- at Wild Rose Yoga Studio Chiang Mai Thailand
May 25, 2022
5:30 pm -
7:00 pm
- with Yoga Class Focus – Fusion Vinyasa Flow
- at Wild Rose Yoga Studio Chiang Mai Thailand
August 2, 2022
10:00 am -
11:30 am
- with Yoga Class Focus – Fusion Vinyasa Flow
- at Wild Rose Yoga Studio Chiang Mai Thailand
May 28, 2022
10:00 am -
11:30 am
- with Yoga Class Focus – Fusion Vinyasa Flow
- at Wild Rose Yoga Studio Chiang Mai Thailand
May 26, 2022
10:00 am -
11:30 am
- with Yoga Class Focus – Fusion Vinyasa Flow
- at Wild Rose Yoga Studio Chiang Mai Thailand
August 3, 2022
5:30 pm -
7:00 pm
- with Yoga Class Focus – Fusion Vinyasa Flow
- at Wild Rose Yoga Studio Chiang Mai Thailand
August 4, 2022
10:00 am -
11:30 am
- with Yoga Class Focus – Fusion Vinyasa Flow
- at Wild Rose Yoga Studio Chiang Mai Thailand
August 6, 2022
10:00 am -
11:30 am
- with Yoga Class Focus – Fusion Vinyasa Flow
- at Wild Rose Yoga Studio Chiang Mai Thailand
August 11, 2022
10:00 am -
11:30 am
- with Yoga Class Focus – Fusion Vinyasa Flow
- at Wild Rose Yoga Studio Chiang Mai Thailand
August 13, 2022
10:00 am -
11:30 am
- with Yoga Class Focus – Fusion Vinyasa Flow
- at Wild Rose Yoga Studio Chiang Mai Thailand