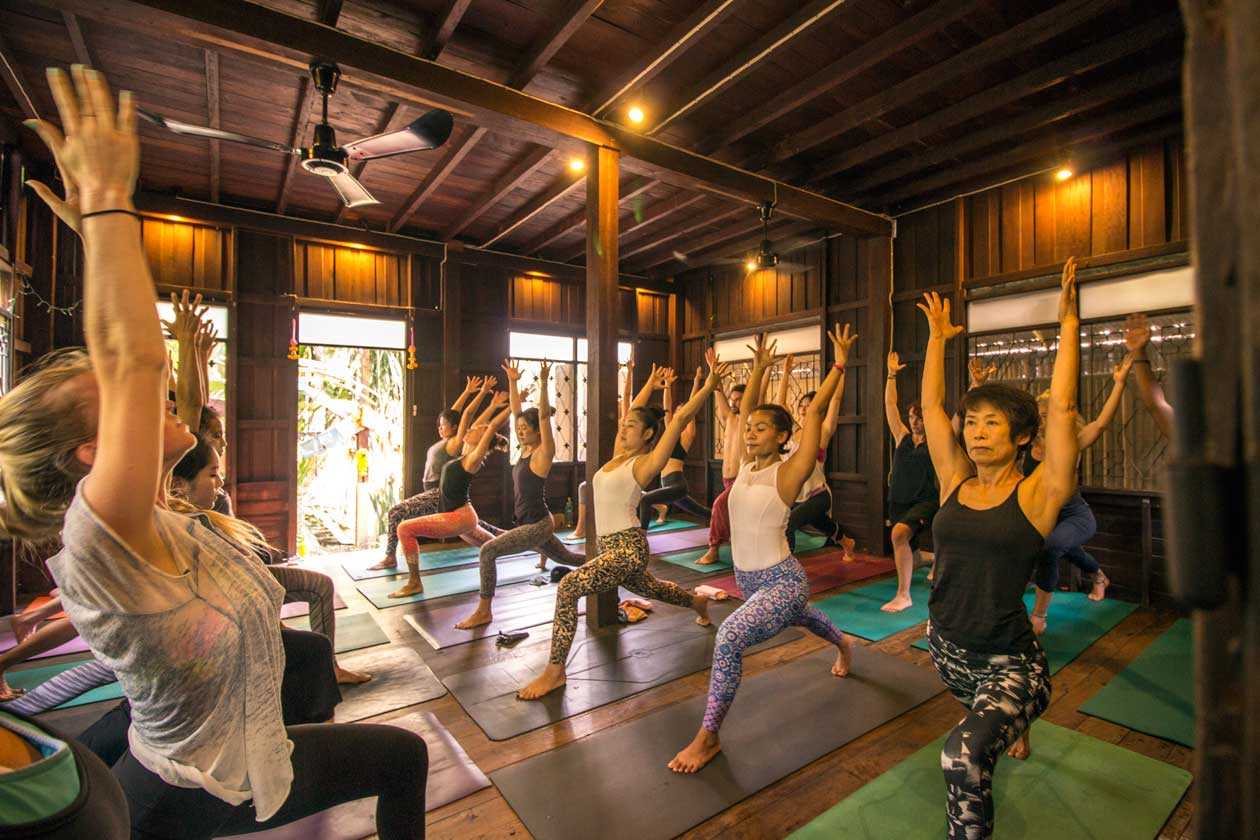 *Class Pass Inclusive or 200 THB
 * NEW YEAR YOGA CLASS 2022 – 250 THB *
 PLEASE ARRIVE 15 MINS. BEFORE A CLASS.
Multi-Level Vinyasa with Kru May is a creative, dynamic and fun vinyasa flow.  In this drop-in vinyasa yoga class we connect the breath to movement in a rhythmic morning vinyasa flow.
Variations will be offered to accommodate multi-level  students. Multi-level yoga at Wild Rose Yoga Chiang Mai is suited for students with an understanding of foundational yoga postures, willing to explore asana (yoga posture ) variations.
Join us for a drop-in yoga class at Wild Rose Yoga Chiang Mai, in the Old City to explore the joy of a creative vinyasa yoga class.
Class Timetable
| | Open Time | Close Time | Trainer | Address |
| --- | --- | --- | --- | --- |
| August 29, 2019 | 10:00 am | 11:30 am | Yoga Class Focus – Fusion Vinyasa Flow | Wild Rose Yoga Studio Chiang Mai Thailand |
| December 28, 2021 | 10:00 am | 11:30 am | Yoga Class Focus – Fusion Vinyasa Flow | Wild Rose Yoga Studio Chiang Mai Thailand |
| December 30, 2021 | 10:00 am | 11:30 am | Yoga Class Focus – Fusion Vinyasa Flow | Wild Rose Yoga Studio Chiang Mai Thailand |
| January 1, 2022 | 10:00 am | 12:00 pm | Yoga Class Focus – Fusion Vinyasa Flow | Wild Rose Yoga Studio Chiang Mai Thailand |
| January 4, 2022 | 10:00 am | 11:30 am | Yoga Class Focus – Fusion Vinyasa Flow | Wild Rose Yoga Studio Chiang Mai Thailand |
| January 6, 2022 | 10:00 am | 11:30 am | Yoga Class Focus – Fusion Vinyasa Flow | Wild Rose Yoga Studio Chiang Mai Thailand |
| January 8, 2022 | 10:00 am | 11:30 am | Yoga Class Focus – Fusion Vinyasa Flow | Wild Rose Yoga Studio Chiang Mai Thailand |
| January 11, 2022 | 10:00 am | 11:30 am | Yoga Class Focus – Fusion Vinyasa Flow | Wild Rose Yoga Studio Chiang Mai Thailand |
| January 13, 2022 | 10:00 am | 11:30 am | Yoga Class Focus – Fusion Vinyasa Flow | Wild Rose Yoga Studio Chiang Mai Thailand |
| January 15, 2022 | 10:00 am | 11:30 am | Yoga Class Focus – Fusion Vinyasa Flow | Wild Rose Yoga Studio Chiang Mai Thailand |
| January 18, 2022 | 10:00 am | 11:30 am | Yoga Class Focus – Fusion Vinyasa Flow | Wild Rose Yoga Studio Chiang Mai Thailand |
| January 20, 2022 | 10:00 am | 11:30 am | Yoga Class Focus – Fusion Vinyasa Flow | Wild Rose Yoga Studio Chiang Mai Thailand |
| January 22, 2022 | 10:00 am | 11:30 am | Yoga Class Focus – Fusion Vinyasa Flow | Wild Rose Yoga Studio Chiang Mai Thailand |
| January 25, 2022 | 10:00 am | 11:30 am | Yoga Class Focus – Fusion Vinyasa Flow | Wild Rose Yoga Studio Chiang Mai Thailand |
| January 27, 2022 | 10:00 am | 11:30 am | Yoga Class Focus – Fusion Vinyasa Flow | Wild Rose Yoga Studio Chiang Mai Thailand |
| January 29, 2022 | 10:00 am | 11:30 am | Yoga Class Focus – Fusion Vinyasa Flow | Wild Rose Yoga Studio Chiang Mai Thailand |
| February 1, 2022 | 10:00 am | 11:30 am | Yoga Class Focus – Fusion Vinyasa Flow | Wild Rose Yoga Studio Chiang Mai Thailand |
| February 3, 2022 | 10:00 am | 11:30 am | Yoga Class Focus – Fusion Vinyasa Flow | Wild Rose Yoga Studio Chiang Mai Thailand |
| February 5, 2022 | 10:00 am | 11:30 am | Yoga Class Focus – Fusion Vinyasa Flow | Wild Rose Yoga Studio Chiang Mai Thailand |
| February 8, 2022 | 10:00 am | 11:30 am | Yoga Class Focus – Fusion Vinyasa Flow | Wild Rose Yoga Studio Chiang Mai Thailand |
| February 10, 2022 | 10:00 am | 11:30 am | Yoga Class Focus – Fusion Vinyasa Flow | Wild Rose Yoga Studio Chiang Mai Thailand |
| February 12, 2022 | 10:00 am | 11:30 am | Yoga Class Focus – Fusion Vinyasa Flow | Wild Rose Yoga Studio Chiang Mai Thailand |
| February 15, 2022 | 10:00 am | 11:30 am | Yoga Class Focus – Fusion Vinyasa Flow | Wild Rose Yoga Studio Chiang Mai Thailand |
| February 17, 2022 | 10:00 am | 11:30 am | Yoga Class Focus – Fusion Vinyasa Flow | Wild Rose Yoga Studio Chiang Mai Thailand |
| February 17, 2022 | 10:00 am | 11:30 am | Yoga Class Focus – Fusion Vinyasa Flow | Wild Rose Yoga Studio Chiang Mai Thailand |
| February 19, 2022 | 10:00 am | 11:30 am | Yoga Class Focus – Fusion Vinyasa Flow | Wild Rose Yoga Studio Chiang Mai Thailand |
| February 22, 2022 | 10:00 am | 11:30 am | Yoga Class Focus – Fusion Vinyasa Flow | Wild Rose Yoga Studio Chiang Mai Thailand |
| February 24, 2022 | 10:00 am | 11:30 am | Yoga Class Focus – Fusion Vinyasa Flow | Wild Rose Yoga Studio Chiang Mai Thailand |
| February 26, 2022 | 10:00 am | 11:30 am | Yoga Class Focus – Fusion Vinyasa Flow | Wild Rose Yoga Studio Chiang Mai Thailand |
| March 1, 2022 | 10:00 am | 11:30 am | Yoga Class Focus – Fusion Vinyasa Flow | Wild Rose Yoga Studio Chiang Mai Thailand |
| March 3, 2022 | 10:00 am | 11:30 am | Yoga Class Focus – Fusion Vinyasa Flow | Wild Rose Yoga Studio Chiang Mai Thailand |
| March 5, 2022 | 10:00 am | 11:30 am | Yoga Class Focus – Fusion Vinyasa Flow | Wild Rose Yoga Studio Chiang Mai Thailand |
August 29, 2019
10:00 am -
11:30 am
- with Yoga Class Focus – Fusion Vinyasa Flow
- at Wild Rose Yoga Studio Chiang Mai Thailand
December 28, 2021
10:00 am -
11:30 am
- with Yoga Class Focus – Fusion Vinyasa Flow
- at Wild Rose Yoga Studio Chiang Mai Thailand
December 30, 2021
10:00 am -
11:30 am
- with Yoga Class Focus – Fusion Vinyasa Flow
- at Wild Rose Yoga Studio Chiang Mai Thailand
January 1, 2022
10:00 am -
12:00 pm
- with Yoga Class Focus – Fusion Vinyasa Flow
- at Wild Rose Yoga Studio Chiang Mai Thailand
January 4, 2022
10:00 am -
11:30 am
- with Yoga Class Focus – Fusion Vinyasa Flow
- at Wild Rose Yoga Studio Chiang Mai Thailand
January 6, 2022
10:00 am -
11:30 am
- with Yoga Class Focus – Fusion Vinyasa Flow
- at Wild Rose Yoga Studio Chiang Mai Thailand
January 8, 2022
10:00 am -
11:30 am
- with Yoga Class Focus – Fusion Vinyasa Flow
- at Wild Rose Yoga Studio Chiang Mai Thailand
January 11, 2022
10:00 am -
11:30 am
- with Yoga Class Focus – Fusion Vinyasa Flow
- at Wild Rose Yoga Studio Chiang Mai Thailand
January 13, 2022
10:00 am -
11:30 am
- with Yoga Class Focus – Fusion Vinyasa Flow
- at Wild Rose Yoga Studio Chiang Mai Thailand
January 15, 2022
10:00 am -
11:30 am
- with Yoga Class Focus – Fusion Vinyasa Flow
- at Wild Rose Yoga Studio Chiang Mai Thailand
January 18, 2022
10:00 am -
11:30 am
- with Yoga Class Focus – Fusion Vinyasa Flow
- at Wild Rose Yoga Studio Chiang Mai Thailand
January 20, 2022
10:00 am -
11:30 am
- with Yoga Class Focus – Fusion Vinyasa Flow
- at Wild Rose Yoga Studio Chiang Mai Thailand
January 22, 2022
10:00 am -
11:30 am
- with Yoga Class Focus – Fusion Vinyasa Flow
- at Wild Rose Yoga Studio Chiang Mai Thailand
January 25, 2022
10:00 am -
11:30 am
- with Yoga Class Focus – Fusion Vinyasa Flow
- at Wild Rose Yoga Studio Chiang Mai Thailand
January 27, 2022
10:00 am -
11:30 am
- with Yoga Class Focus – Fusion Vinyasa Flow
- at Wild Rose Yoga Studio Chiang Mai Thailand
January 29, 2022
10:00 am -
11:30 am
- with Yoga Class Focus – Fusion Vinyasa Flow
- at Wild Rose Yoga Studio Chiang Mai Thailand
February 1, 2022
10:00 am -
11:30 am
- with Yoga Class Focus – Fusion Vinyasa Flow
- at Wild Rose Yoga Studio Chiang Mai Thailand
February 3, 2022
10:00 am -
11:30 am
- with Yoga Class Focus – Fusion Vinyasa Flow
- at Wild Rose Yoga Studio Chiang Mai Thailand
February 5, 2022
10:00 am -
11:30 am
- with Yoga Class Focus – Fusion Vinyasa Flow
- at Wild Rose Yoga Studio Chiang Mai Thailand
February 8, 2022
10:00 am -
11:30 am
- with Yoga Class Focus – Fusion Vinyasa Flow
- at Wild Rose Yoga Studio Chiang Mai Thailand
February 10, 2022
10:00 am -
11:30 am
- with Yoga Class Focus – Fusion Vinyasa Flow
- at Wild Rose Yoga Studio Chiang Mai Thailand
February 12, 2022
10:00 am -
11:30 am
- with Yoga Class Focus – Fusion Vinyasa Flow
- at Wild Rose Yoga Studio Chiang Mai Thailand
February 15, 2022
10:00 am -
11:30 am
- with Yoga Class Focus – Fusion Vinyasa Flow
- at Wild Rose Yoga Studio Chiang Mai Thailand
February 17, 2022
10:00 am -
11:30 am
- with Yoga Class Focus – Fusion Vinyasa Flow
- at Wild Rose Yoga Studio Chiang Mai Thailand
February 17, 2022
10:00 am -
11:30 am
- with Yoga Class Focus – Fusion Vinyasa Flow
- at Wild Rose Yoga Studio Chiang Mai Thailand
February 19, 2022
10:00 am -
11:30 am
- with Yoga Class Focus – Fusion Vinyasa Flow
- at Wild Rose Yoga Studio Chiang Mai Thailand
February 22, 2022
10:00 am -
11:30 am
- with Yoga Class Focus – Fusion Vinyasa Flow
- at Wild Rose Yoga Studio Chiang Mai Thailand
February 24, 2022
10:00 am -
11:30 am
- with Yoga Class Focus – Fusion Vinyasa Flow
- at Wild Rose Yoga Studio Chiang Mai Thailand
February 26, 2022
10:00 am -
11:30 am
- with Yoga Class Focus – Fusion Vinyasa Flow
- at Wild Rose Yoga Studio Chiang Mai Thailand
March 1, 2022
10:00 am -
11:30 am
- with Yoga Class Focus – Fusion Vinyasa Flow
- at Wild Rose Yoga Studio Chiang Mai Thailand
March 3, 2022
10:00 am -
11:30 am
- with Yoga Class Focus – Fusion Vinyasa Flow
- at Wild Rose Yoga Studio Chiang Mai Thailand
March 5, 2022
10:00 am -
11:30 am
- with Yoga Class Focus – Fusion Vinyasa Flow
- at Wild Rose Yoga Studio Chiang Mai Thailand