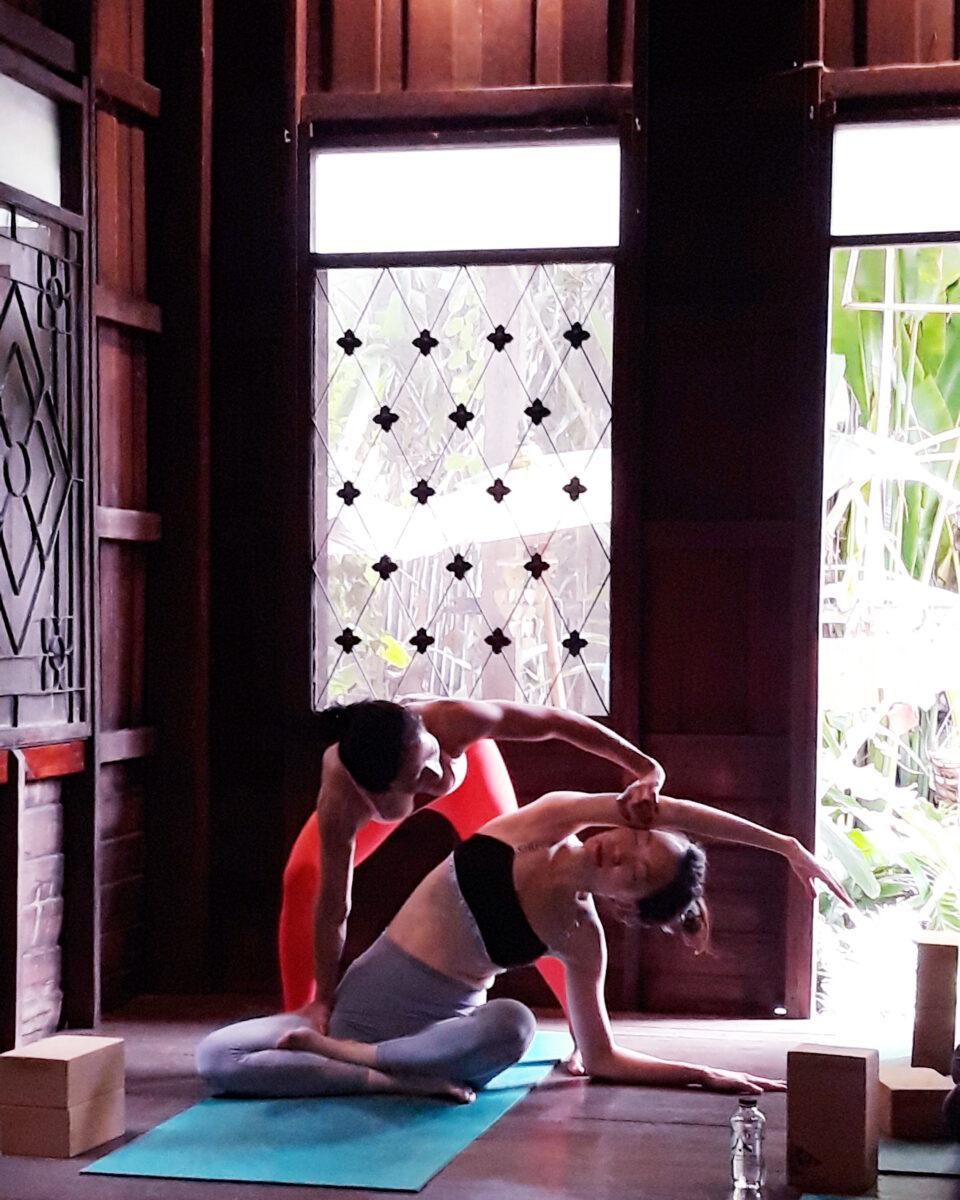 * 300 Baht Drop-in or Class Pass Inclusive
  PRE-BOOK REQUIRED on WHATSAPP +66 89 9509377
Not suited for Beginner Yoga Students
Join us for Rise and Shine Vinyasa Morning Flow with Kru. May.
This multi-level yoga class, from intermediate to advanced level will awaken your breath and body through a energizing and conditioning vinyasa yoga flow.
Kru. May will include pranayama, conditioning vinyasa into arm balances for a dynamic and exhilarating intermediate to advanced yoga class. Join us as we move through a strong vinyasa yoga class into deep backbends, arm balances and inversions.
Class Timetable
| | Open Time | Close Time | Trainer | Address |
| --- | --- | --- | --- | --- |
| December 5, 2019 | 8:00 am | 9:30 am | Rise and Shine Vinyasa Morning Flow with Kru. May | Wild Rose Yoga Studio Chiang Mai Thailand |
| July 25, 2023 | 9:00 am | 11:00 am | Yoga Class Focus – Morning Vinyasa Flow | Wild Rose Yoga Studio Chiang Mai Thailand |
| July 27, 2023 | 9:00 am | 11:00 am | Yoga Class Focus – Morning Vinyasa Flow | Wild Rose Yoga Studio Chiang Mai Thailand |
| August 1, 2023 | 9:00 am | 11:00 am | Yoga Class Focus – Morning Vinyasa Flow | Wild Rose Yoga Studio Chiang Mai Thailand |
| August 3, 2023 | 9:00 am | 11:00 am | Yoga Class Focus – Morning Vinyasa Flow | Wild Rose Yoga Studio Chiang Mai Thailand |
| August 8, 2023 | 9:00 am | 11:00 am | Yoga Class Focus – Morning Vinyasa Flow | Wild Rose Yoga Studio Chiang Mai Thailand |
| August 10, 2023 | 9:00 am | 11:00 am | Yoga Class Focus – Morning Vinyasa Flow | Wild Rose Yoga Studio Chiang Mai Thailand |
| August 15, 2023 | 9:00 am | 11:00 am | Yoga Class Focus – Morning Vinyasa Flow | Wild Rose Yoga Studio Chiang Mai Thailand |
| August 17, 2023 | 9:00 am | 11:00 am | Yoga Class Focus – Morning Vinyasa Flow | Wild Rose Yoga Studio Chiang Mai Thailand |
| August 22, 2023 | 9:00 am | 11:00 am | Yoga Class Focus – Morning Vinyasa Flow | Wild Rose Yoga Studio Chiang Mai Thailand |
| August 24, 2023 | 9:00 am | 11:00 am | Yoga Class Focus – Morning Vinyasa Flow | Wild Rose Yoga Studio Chiang Mai Thailand |
| August 29, 2023 | 9:00 am | 11:00 am | Yoga Class Focus – Morning Vinyasa Flow | Wild Rose Yoga Studio Chiang Mai Thailand |
| August 31, 2023 | 9:00 am | 11:00 am | Yoga Class Focus – Morning Vinyasa Flow | Wild Rose Yoga Studio Chiang Mai Thailand |
| September 5, 2023 | 9:00 am | 11:00 am | Yoga Class Focus – Morning Vinyasa Flow | Wild Rose Yoga Studio Chiang Mai Thailand |
| September 7, 2023 | 9:00 am | 11:00 am | Yoga Class Focus – Morning Vinyasa Flow | Wild Rose Yoga Studio Chiang Mai Thailand |
| September 12, 2023 | 9:00 am | 11:00 am | Yoga Class Focus – Morning Vinyasa Flow | Wild Rose Yoga Studio Chiang Mai Thailand |
| September 14, 2023 | 9:00 am | 11:00 am | Yoga Class Focus – Morning Vinyasa Flow | Wild Rose Yoga Studio Chiang Mai Thailand |
| September 19, 2023 | 9:00 am | 11:00 am | Yoga Class Focus – Morning Vinyasa Flow | Wild Rose Yoga Studio Chiang Mai Thailand |
| September 21, 2023 | 9:00 am | 11:00 am | Yoga Class Focus – Morning Vinyasa Flow | Wild Rose Yoga Studio Chiang Mai Thailand |
| September 26, 2023 | 9:00 am | 11:00 am | Yoga Class Focus – Morning Vinyasa Flow | Wild Rose Yoga Studio Chiang Mai Thailand |
| September 28, 2023 | 9:00 am | 11:00 am | Yoga Class Focus – Morning Vinyasa Flow | Wild Rose Yoga Studio Chiang Mai Thailand |
| October 3, 2023 | 9:00 am | 11:00 am | Yoga Class Focus – Morning Vinyasa Flow | Wild Rose Yoga Studio Chiang Mai Thailand |
| October 5, 2023 | 9:00 am | 11:00 am | Yoga Class Focus – Morning Vinyasa Flow | Wild Rose Yoga Studio Chiang Mai Thailand |
December 5, 2019
8:00 am -
9:30 am
- with Rise and Shine Vinyasa Morning Flow with Kru. May
- at Wild Rose Yoga Studio Chiang Mai Thailand
July 25, 2023
9:00 am -
11:00 am
- with Yoga Class Focus – Morning Vinyasa Flow
- at Wild Rose Yoga Studio Chiang Mai Thailand
July 27, 2023
9:00 am -
11:00 am
- with Yoga Class Focus – Morning Vinyasa Flow
- at Wild Rose Yoga Studio Chiang Mai Thailand
August 1, 2023
9:00 am -
11:00 am
- with Yoga Class Focus – Morning Vinyasa Flow
- at Wild Rose Yoga Studio Chiang Mai Thailand
August 3, 2023
9:00 am -
11:00 am
- with Yoga Class Focus – Morning Vinyasa Flow
- at Wild Rose Yoga Studio Chiang Mai Thailand
August 8, 2023
9:00 am -
11:00 am
- with Yoga Class Focus – Morning Vinyasa Flow
- at Wild Rose Yoga Studio Chiang Mai Thailand
August 10, 2023
9:00 am -
11:00 am
- with Yoga Class Focus – Morning Vinyasa Flow
- at Wild Rose Yoga Studio Chiang Mai Thailand
August 15, 2023
9:00 am -
11:00 am
- with Yoga Class Focus – Morning Vinyasa Flow
- at Wild Rose Yoga Studio Chiang Mai Thailand
August 17, 2023
9:00 am -
11:00 am
- with Yoga Class Focus – Morning Vinyasa Flow
- at Wild Rose Yoga Studio Chiang Mai Thailand
August 22, 2023
9:00 am -
11:00 am
- with Yoga Class Focus – Morning Vinyasa Flow
- at Wild Rose Yoga Studio Chiang Mai Thailand
August 24, 2023
9:00 am -
11:00 am
- with Yoga Class Focus – Morning Vinyasa Flow
- at Wild Rose Yoga Studio Chiang Mai Thailand
August 29, 2023
9:00 am -
11:00 am
- with Yoga Class Focus – Morning Vinyasa Flow
- at Wild Rose Yoga Studio Chiang Mai Thailand
August 31, 2023
9:00 am -
11:00 am
- with Yoga Class Focus – Morning Vinyasa Flow
- at Wild Rose Yoga Studio Chiang Mai Thailand
September 5, 2023
9:00 am -
11:00 am
- with Yoga Class Focus – Morning Vinyasa Flow
- at Wild Rose Yoga Studio Chiang Mai Thailand
September 7, 2023
9:00 am -
11:00 am
- with Yoga Class Focus – Morning Vinyasa Flow
- at Wild Rose Yoga Studio Chiang Mai Thailand
September 12, 2023
9:00 am -
11:00 am
- with Yoga Class Focus – Morning Vinyasa Flow
- at Wild Rose Yoga Studio Chiang Mai Thailand
September 14, 2023
9:00 am -
11:00 am
- with Yoga Class Focus – Morning Vinyasa Flow
- at Wild Rose Yoga Studio Chiang Mai Thailand
September 19, 2023
9:00 am -
11:00 am
- with Yoga Class Focus – Morning Vinyasa Flow
- at Wild Rose Yoga Studio Chiang Mai Thailand
September 21, 2023
9:00 am -
11:00 am
- with Yoga Class Focus – Morning Vinyasa Flow
- at Wild Rose Yoga Studio Chiang Mai Thailand
September 26, 2023
9:00 am -
11:00 am
- with Yoga Class Focus – Morning Vinyasa Flow
- at Wild Rose Yoga Studio Chiang Mai Thailand
September 28, 2023
9:00 am -
11:00 am
- with Yoga Class Focus – Morning Vinyasa Flow
- at Wild Rose Yoga Studio Chiang Mai Thailand
October 3, 2023
9:00 am -
11:00 am
- with Yoga Class Focus – Morning Vinyasa Flow
- at Wild Rose Yoga Studio Chiang Mai Thailand
October 5, 2023
9:00 am -
11:00 am
- with Yoga Class Focus – Morning Vinyasa Flow
- at Wild Rose Yoga Studio Chiang Mai Thailand
Pre-Booking Required For All Classes