Meditation, Massage &
YOGA RETREATS


Chiang Mai, Thailand
Over the last 10 years of offering yoga in Chiang Mai, students of Wild Rose Yoga Studio have asked for word of mouth advice on where to do the best Meditation, Massage or yoga retreat in Chiang Mai. With so many choices in this vibrant Thai city full of health and wellness retreats, it can sometimes be hard to choose.
Here are just some of our top recommendations for upcoming meditation, massage and yoga retreats in Chiang Mai, Thailand based on their programs and the uniqueness of the resort, retreat center or studio location.
For more information, please contact the organizers directly. 
Their information is listed below.
Enjoy!
Ayurvedic Urban Immersion 
An Ayurvedic Yoga Retreat
@Wild Rose Yoga Studio, Heart of Old City Chiang Mai, Thailand

Course I |

Ayurvedic Foundations | Jan. 4th – 9th 2020
Course II | Ayurvedic Principles in Motion, Sequencing with Ayurveda | Jan. 11th – 17th 2020
Course 1   6 days
Course 2   7 days
Doing an Urban Yoga Retreat in the Old City of Chiang Mai is for so many people the absolute best of the best.  Find the exact place to stay within your budget and tastes, within the old city walls, with the perfect journey to the studio each morning – past your favourite cafe,  juice bar, temple or morning market.  Get a nearby temple massage during free time or search out the newest "foodie must".  The yoga studio will be dedicated to your workshop or training group and so you will have time to settle into this beautiful space where so many people play and practice yoga every day.  You can join Wild Rose Yoga Studio for an Ayurvedic Training in January 2020.
Course I  |

Ayurvedic Foundations | Jan. 4th – 9th 2020
6 Days
Mornings   7:30 am – 9:30 am
Afternoons  12:30 – 4:30 pm
Description Course I | Ayurvedic Foundations, Yoga Flow and Theory
Yoga offers a strong stable way to become more attuned through all expressions of movement and stillness, whether that be of the body or the contours of the mind. In a simplistic way, yoga teaches us the methods for perception and growth while Ayurveda teaches us how to perceive and then apply these technique for growth.
The first 6 days of this course will cover the tools – governed by Ayurvedic Principles – necessary to begin to see and interact with the world in an Ayurvedic way. Each morning will begin with a 90 minute Ayurvedic asana class. After our morning break, we will return to the yoga studio for discussion focusing on the relevant lecture for the day and the skillful application of ayurveda principles in our yoga practice and our life.
We will cover these topics:
● Samkhya
● Sattva/Rajas/Tamas
● 5 Vayus
● 5 Elements
● 3 Doshas
● 10 Senses and Sense Therapies
● 6 Tastes ● 7 Tissues
● Prana/Tejas/Ojas
● Ayurvedic Clock
● How Dosha Forms and Can Be Managed
________________________________________________
Course II | Ayurvedic Principles in Motion, Sequencing with Ayurveda | Jan. 11th – 17th 2020
7 days 
Mornings      7:30 am – 9:30 am
Afternoons   12:30 – 4:30 pm
Description Course II | Ayurvedic Principles in Motion, Sequencing with Ayurveda
This program covers how to apply Ayurveda in practice – yoga and other healing modalities. Through the application of Course I, Ayurvedic Foundations, Yoga Flow and Theory, we are now able to see how these processes build and build upon each other. We can now apply methods of Ayurvedic Balance to mitigate the effects of imbalance as well as imbalance itself.
This portion of the training will be geared toward therapists and yoga teachers. It is also perfect for those who are serious practitioners/students of Yoga and bodywork who are looking to use concrete methods to perceive physical and psychological imbalances in themselves, as well as students and clients in order to create sequences or therapies to support.
Each morning we will begin with a 90 minute Ayurvedic Yoga Class. After our morning break we will discuss the themes presented in the morning's asana class. We will review the Ayurvedic Philosophy and Science behind the day's focus, and spend time in small groups. We will craft sequences (asana or therapeutic remedies ) to support the days focus. We will share and teach these sequences to the class and discuss what was supportive/unsupportive. By the end of the 6 days, course II, Ayurvedic Principles in Motion, Sequencing with Ayurveda we will complete the course with students presenting their understanding of ayurvedic sequencing to the class and discuss our understanding together as a group.
We will cover these topics:
Ego/Mind Development
Brimhana/Langhana Chikista
10 senses and 10 sense therapies
10 Vessels
Seasonal Sequencing
Sequencing for Age/Stage of Life
Sequencing for Doshic Balance
Pranayama for Balance
Pulse
How to Perceive Balance/Imbalance
How to Use 5 Tastes to Balance
Investment in Ayurveda and You:
Early Bird Price Single Course I, Nov. 25th 2019 : 8,000 B
Price Single Course I after Nov. 25th 2019 : 9000 B
Early Bird Price Single Course II, Nov. 25th 2019: 9,000 B
Price Single Course II after Nov. 25th 2019 : 10, 000 B
Early Bird Price Full Course, Nov. 25th 2019: 14,000
Price Full Course after Nov. 25th 2019 : 16,000 B
– 50% Non-refundable deposit is required to register, please pm for details.
For more details please,  contact Wild Rose Yoga Studio.
Middle Way  
Meditation Retreats
---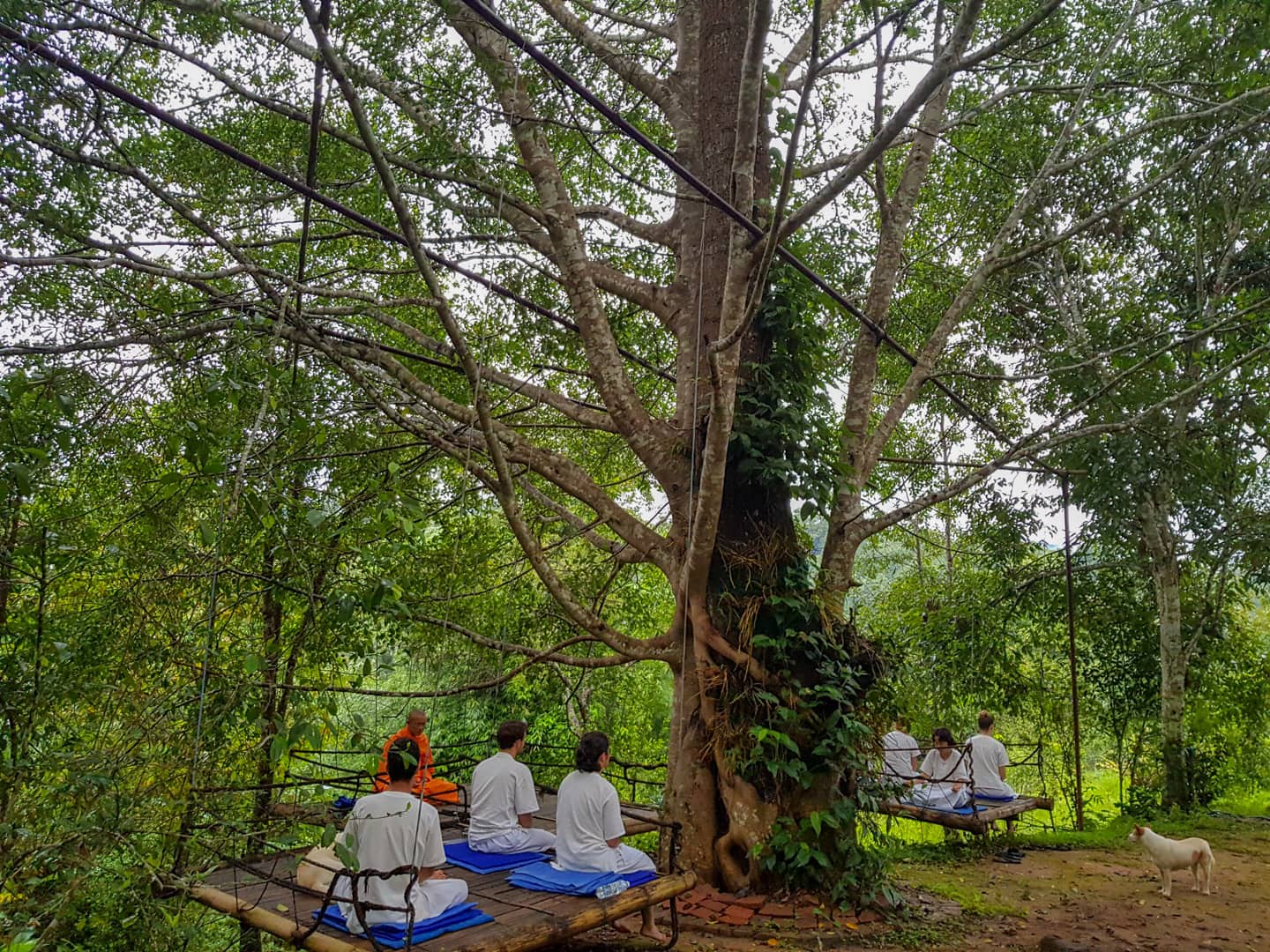 Pa Pae Meditation Retreats Chiang Mai provides a quite, serene and authenticly Thai alternative to some of the busier Vipassana and Meditation Centers around Chiang Mai, at a very affordable rate – starting around 400 thb suggested per day for accommodations and meals.  Their meditation retreats are ongoing throughout the year.  Pa Pae is well known for their Middle Way Meditation approach and their easy and gentle demeanor when it comes to comfort and sitting in rigid postures for long periods of time – compared with other Vipassana Centers in Northern Thailand.  Pa Pae is also known for their variety of meditation halls and sites in nature around the center to meditate.
Located in the scenic jungles on the way to Pai,  Pa Pae Meditation Retreat Center is a easy stop off when going or coming from the Pai area.  It is also just close enough to the Chiang Mai, about an hour and a half, as to feel easily accessible and yet removed from the city enough to see, feel and experience the real village life of Thailand's countryside.
VedicThai
Traditional Thai Medicine Tour
---
VedicThai | Traditional Thai Medicine Tour | October 28th – November 6th 2019   10 Days
with Sebastian Bruno
10 Days  –  October 28th – Nov. 6th 2019
The history of Traditional Thai Medicine begins with the land known today as Thailand, previously known as Siam.
The origin of every traditional medicine system starts with the land and its environment- Nature.
What makes traditional systems of medicine around the world different and unique is the fact that the land, climate, plants and diseases are different and unique all around the globe.
The ancient kingdom of Siam ( nowadays Thailand), bordered south by Malaysia, West by Burma, East by Cambodia, North by Lao and right in the center of the trading route between China and India exposed the territory to many influences.
Predominantly a Buddhist culture, the primary figurehead in traditional Thai medicine is the Buddha as he is viewed as the the ultimate physician and Dhamma ( his teachings) the ultimate healing tool to eradicate suffering. So Thai Medicine is inherently Buddhist Medicine.
Thai Massage is part of one of the five branches that make Traditional Thai Medicine.
These branches are:
Internal Medicine ( herbology )
External Medicine ( Reusi Dat Ton, Thai Massage, Acupressure, Tok Sen, Scraping, medicated oils, herbal compresses, balms, liniments….)
– Divinatory Sciences ( palmistry, Jyothish astrology, numerology….)
– Spirit Medicine ( mantras, invocations, incantations, shamanism, Sak Yam, magic….)
– Buddhist Medicine.
These branches are weaved together by Buddhist principles and Five Element theory creating a unique, comprehensive system of healing wisdom.
As a natural medicine, it uses the Five Element theory to understand individuality and diagnose imbalances.
As a spiritual practice it incorporates the Buddhist principles of Vipassana (mindfulness) and the Four Brahamaviharas (Divine states of Mind)- Metta, Karuna, Mudita, Uppekha (loving kindness, compassion, sympathetic joy, equanimity).
Powerful stretches and deep acupressure are applied carefully along as a fluid meditative dance creating a relaxed supported body work that allows a profound sense of space and relaxation, bringing opposites (yin/yang, solar/lunar , masculine/feminine) into union.
Join us for a 10 day tour in Northern Thailand, exploring the Heart of Thai Massage and Traditional Thai Medicine, conscious touch, non-verbal communication, meditation , prayer, ritual, mantras, Reusi Dat Ton ( Thai Yoga) and more.
Meet local healers, spirit doctors, Buddhist teachers and masters!
An unforgettable journey into traditional timeless wisdom.
 Thai Medicine Tour Schedule:
5 days at Chiang Mai Mala Dhara Yoga Retreat Center & Eco Resort. 
Accommodation and 3 vegan meals a day included.
Learn the foundation of Thai Massage in the context of Thai Healing Arts. Understanding its origins and evolution this course presents the theory behind the practice.
. History and origin of Thai Massage
. Thai Element Theory
. Condensation/Dissipation concept
. The Four Bhramaviharas
. Principles of touch
. Movement Meditation
. Reusi Dat Ton ( Thai Yoga)
5 days exploring the area of Chiang Mai, Doi Saket and Chiang Dao and visiting local healers, Reusi (shamans), teachers, temples and power spots.
. Yam kang (fire foot treatment)
. Ched Hak (scrapping/Guasha)
. Tok Sen (tapping therapy)
. Herbal compresses
. Local markets
. Master Arjan Pichest
…….and much more
For more information, Please Contact:
Ocean Flow Yoga Retreat
@ Haad Khom Beach,  Kho Phangan, Thailand
---

OCEAN FLOW
YOGA RETREAT
23rd – 29th  February 2020,
Koh Phangan, Thailand
While technically not in Chiang Mai – this week long getaway will be hosted by two long time yoga teachers from Chiang Mai – as "they take it to go" – down South – to the beautiful beaches of Koh Pangnang.
 Rosemary Bolivar (Wild Rose Yoga Chiang Mai)and Laurence Gilliot (Pranaya Yoga) are delighted to invite you to join them for a rejuvenating, serene and nurturing ocean flow yoga escape.
6 day Yoga Retreat on the tropical island of Koh Phangan, Thailand. 
Our yoga retreat is located at Ocean View Beach Resort located between blue ocean and luscious nature.
Let yourself surrender to the sound of the waves and the stunning verdant  landscape, 

explore the Element of Water and Earth in breath, body and mind. 
Practice yoga 2x daily, eat healthy nourishing food, enjoy the vastness of the serene and stunning  landscape.  Dip your toes into the fresh ocean or relax in a hammock.  Wander through the lush jungle, kayak on the ocean to explore the richness of nature that surrounds Ocean Beach View Retreat or go diving.
This yoga retreat is all about reconnecting to deep nature, inside and outside.
Through the daily yoga practice you will explore the Element of Water and Earth through yoga in breath, body and mind. 
You will move fluidly, with the rhythm of our breath and the inspiration of the ocean, exploring yoga through intuitive and non-linear yoga movement, ending with stillness and stability to ground ourselves fully.
Daily Schedule and Activities
7:30am – 8:00am: Meditation
8:00am – 9:30am: Morning Yoga including Pranayama and Asana
9:30am – 11:00am: Breakfast
11:00am – 5:00pm: Free time
5:00pm – 6:30pm: Evening Yoga including Pranayama and Asana
6:30pm – 8:00pm: Dinner
8:00pm – 9:00pm: Free time or evening activityBesides our 2 daily Yoga practices, there are plenty of possible activities on the island:
​
– Hike in the jungle to the secluded Bottle beach (the start of the hike is literally from our Resort)
– Swimming and Snorkeling right off Haad Khom
– Kayak on the Ocean and explore the National Park bordering our Resort*
– Scuba Diving to Sail Rock or Koh Tao*
– Take a stroll in the Fishermen's village of Chaluklum*
– Take a steam-bath at the Dome*
– Walk up to a local waterfall*
– Watch the sunset with lovely hippies in SriThanu*
– Rent a motorbike and cruz around the island*
*: those activities are at your own costs and under your own responsibility