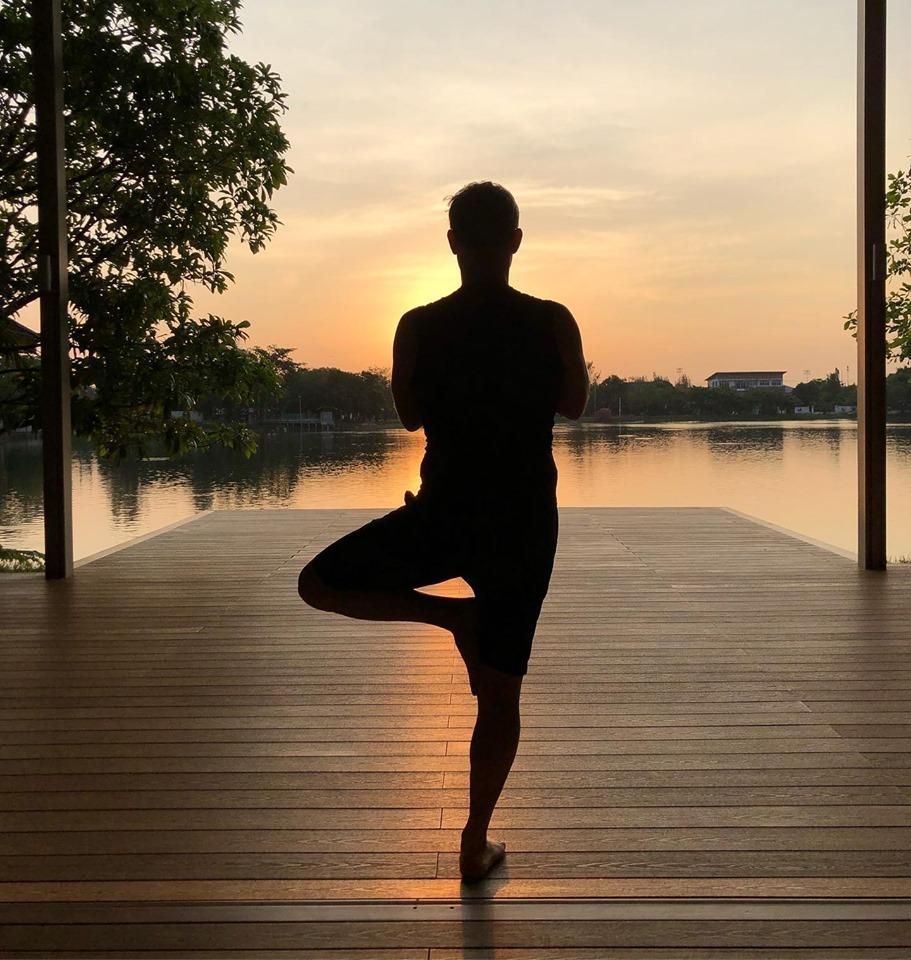 * 300 THB Drop-in or Class Pass Inclusive
PRE-BOOKING REQUIRED on WHATSAPP + 66 89 950 9377
 NEW STUDENTS PLEASE ARRIVE 30 MINS. BEFORE A CLASS for CHECK IN AND PAYMENT
Join us for Alignment-Based Hatha  flow with Kru. Gernot.  Alignment-based Hatha flow Yoga class connects patterns of movement and breath and our mental processes into a yoga exploration of understanding the mechanics of yoga at work.
This yoga exploration is presented in the context of a more challenging mental process and moderately challenging physical yoga flow and expressions, in which breath, awareness and the connection of all these elements are united, which also increases the process of maintaining joy throughout the hatha yoga flow practice.
Yoga classes focus on the details of asana with technical language pertaining to anatomy, alignment and a weekly focal theme.
Class Timetable
| | Open Time | Close Time | Trainer | Address |
| --- | --- | --- | --- | --- |
| November 5, 2019 | 10:00 am | 11:30 am | Yoga Class Focus – Yoga Anatomy Flow | Wild Rose Yoga Studio Chiang Mai Thailand |
| December 15, 2022 | 8:00 am | 9:30 am | Yoga Class Focus – Yoga Anatomy Flow | Wild Rose Yoga Studio Chiang Mai Thailand |
| December 28, 2022 | 5:30 pm | 7:00 pm | Yoga Class Focus – Yoga Anatomy Flow | Wild Rose Yoga Studio Chiang Mai Thailand |
| December 29, 2022 | 8:00 am | 9:30 am | Yoga Class Focus – Yoga Anatomy Flow | Wild Rose Yoga Studio Chiang Mai Thailand |
| December 30, 2022 | 10:00 am | 11:30 am | Yoga Class Focus – Yoga Anatomy Flow | Wild Rose Yoga Studio Chiang Mai Thailand |
| January 5, 2023 | 8:00 am | 9:30 am | Yoga Class Focus – Yoga Anatomy Flow | Wild Rose Yoga Studio Chiang Mai Thailand |
| January 4, 2023 | 5:30 pm | 7:00 pm | Yoga Class Focus – Yoga Anatomy Flow | Wild Rose Yoga Studio Chiang Mai Thailand |
| January 6, 2023 | 10:00 am | 9:30 am | Yoga Class Focus – Yoga Anatomy Flow | Wild Rose Yoga Studio Chiang Mai Thailand |
| January 11, 2023 | 5:30 pm | 7:00 pm | Yoga Class Focus – Yoga Anatomy Flow | Wild Rose Yoga Studio Chiang Mai Thailand |
| January 13, 2023 | 10:00 am | 11:30 am | Yoga Class Focus – Yoga Anatomy Flow | Wild Rose Yoga Studio Chiang Mai Thailand |
| January 12, 2023 | 8:00 am | 9:30 am | Yoga Class Focus – Yoga Anatomy Flow | Wild Rose Yoga Studio Chiang Mai Thailand |
| January 18, 2023 | 5:30 pm | 7:00 pm | Yoga Class Focus – Yoga Anatomy Flow | Wild Rose Yoga Studio Chiang Mai Thailand |
| January 19, 2023 | 8:00 am | 9:30 am | Yoga Class Focus – Yoga Anatomy Flow | Wild Rose Yoga Studio Chiang Mai Thailand |
| January 20, 2023 | 10:00 am | 11:30 am | Yoga Class Focus – Yoga Anatomy Flow | Wild Rose Yoga Studio Chiang Mai Thailand |
| January 25, 2023 | 5:30 pm | 7:00 pm | Yoga Class Focus – Yoga Anatomy Flow | Wild Rose Yoga Studio Chiang Mai Thailand |
| January 26, 2023 | 8:00 am | 9:00 am | Yoga Class Focus – Yoga Anatomy Flow | Wild Rose Yoga Studio Chiang Mai Thailand |
| January 27, 2023 | 10:00 am | 11:30 am | Yoga Class Focus – Yoga Anatomy Flow | Wild Rose Yoga Studio Chiang Mai Thailand |
| February 1, 2023 | 5:30 pm | 7:00 pm | Yoga Class Focus – Yoga Anatomy Flow | Wild Rose Yoga Studio Chiang Mai Thailand |
| February 2, 2023 | 8:00 am | 9:30 am | Ayurvedic Yoga Flow | Wild Rose Yoga Studio Chiang Mai Thailand |
| February 3, 2023 | 10:00 am | 11:30 am | Yoga Class Focus – Yoga Anatomy Flow | Wild Rose Yoga Studio Chiang Mai Thailand |
| February 8, 2023 | 5:30 pm | 7:00 pm | Yoga Class Focus – Yoga Anatomy Flow | Wild Rose Yoga Studio Chiang Mai Thailand |
| February 9, 2023 | 8:00 am | 9:30 am | Yoga Class Focus – Yoga Anatomy Flow | Wild Rose Yoga Studio Chiang Mai Thailand |
| February 10, 2023 | 10:00 am | 11:30 am | Yoga Class Focus – Yoga Anatomy Flow | Wild Rose Yoga Studio Chiang Mai Thailand |
| February 16, 2023 | 8:00 am | 9:30 am | Yoga Class Focus – Yoga Anatomy Flow | Wild Rose Yoga Studio Chiang Mai Thailand |
| February 15, 2023 | 5:30 pm | 7:00 pm | Yoga Class Focus – Yoga Anatomy Flow | Wild Rose Yoga Studio Chiang Mai Thailand |
| February 17, 2023 | 10:00 am | 11:30 am | Yoga Class Focus – Yoga Anatomy Flow | Wild Rose Yoga Studio Chiang Mai Thailand |
| February 22, 2023 | 5:30 pm | 7:00 pm | Yoga Class Focus – Yoga Anatomy Flow | Wild Rose Yoga Studio Chiang Mai Thailand |
| February 23, 2023 | 8:00 am | 9:30 am | Yoga Class Focus – Yoga Anatomy Flow | Wild Rose Yoga Studio Chiang Mai Thailand |
| February 24, 2023 | 10:00 am | 11:30 am | Yoga Class Focus – Yoga Anatomy Flow | Wild Rose Yoga Studio Chiang Mai Thailand |
| March 1, 2023 | 5:30 pm | 7:00 pm | Yoga Class Focus – Yoga Anatomy Flow | Wild Rose Yoga Studio Chiang Mai Thailand |
| March 2, 2023 | 8:00 am | 9:30 am | Yoga Class Focus – Yoga Anatomy Flow | Wild Rose Yoga Studio Chiang Mai Thailand |
| March 3, 2023 | 10:00 am | 11:30 am | Yoga Class Focus – Yoga Anatomy Flow | Wild Rose Yoga Studio Chiang Mai Thailand |
| March 8, 2023 | 5:30 pm | 7:00 pm | Yoga Class Focus – Yoga Anatomy Flow | Wild Rose Yoga Studio Chiang Mai Thailand |
November 5, 2019
10:00 am -
11:30 am
- with Yoga Class Focus – Yoga Anatomy Flow
- at Wild Rose Yoga Studio Chiang Mai Thailand
December 15, 2022
8:00 am -
9:30 am
- with Yoga Class Focus – Yoga Anatomy Flow
- at Wild Rose Yoga Studio Chiang Mai Thailand
December 28, 2022
5:30 pm -
7:00 pm
- with Yoga Class Focus – Yoga Anatomy Flow
- at Wild Rose Yoga Studio Chiang Mai Thailand
December 29, 2022
8:00 am -
9:30 am
- with Yoga Class Focus – Yoga Anatomy Flow
- at Wild Rose Yoga Studio Chiang Mai Thailand
December 30, 2022
10:00 am -
11:30 am
- with Yoga Class Focus – Yoga Anatomy Flow
- at Wild Rose Yoga Studio Chiang Mai Thailand
January 5, 2023
8:00 am -
9:30 am
- with Yoga Class Focus – Yoga Anatomy Flow
- at Wild Rose Yoga Studio Chiang Mai Thailand
January 4, 2023
5:30 pm -
7:00 pm
- with Yoga Class Focus – Yoga Anatomy Flow
- at Wild Rose Yoga Studio Chiang Mai Thailand
January 6, 2023
10:00 am -
9:30 am
- with Yoga Class Focus – Yoga Anatomy Flow
- at Wild Rose Yoga Studio Chiang Mai Thailand
January 11, 2023
5:30 pm -
7:00 pm
- with Yoga Class Focus – Yoga Anatomy Flow
- at Wild Rose Yoga Studio Chiang Mai Thailand
January 13, 2023
10:00 am -
11:30 am
- with Yoga Class Focus – Yoga Anatomy Flow
- at Wild Rose Yoga Studio Chiang Mai Thailand
January 12, 2023
8:00 am -
9:30 am
- with Yoga Class Focus – Yoga Anatomy Flow
- at Wild Rose Yoga Studio Chiang Mai Thailand
January 18, 2023
5:30 pm -
7:00 pm
- with Yoga Class Focus – Yoga Anatomy Flow
- at Wild Rose Yoga Studio Chiang Mai Thailand
January 19, 2023
8:00 am -
9:30 am
- with Yoga Class Focus – Yoga Anatomy Flow
- at Wild Rose Yoga Studio Chiang Mai Thailand
January 20, 2023
10:00 am -
11:30 am
- with Yoga Class Focus – Yoga Anatomy Flow
- at Wild Rose Yoga Studio Chiang Mai Thailand
January 25, 2023
5:30 pm -
7:00 pm
- with Yoga Class Focus – Yoga Anatomy Flow
- at Wild Rose Yoga Studio Chiang Mai Thailand
January 26, 2023
8:00 am -
9:00 am
- with Yoga Class Focus – Yoga Anatomy Flow
- at Wild Rose Yoga Studio Chiang Mai Thailand
January 27, 2023
10:00 am -
11:30 am
- with Yoga Class Focus – Yoga Anatomy Flow
- at Wild Rose Yoga Studio Chiang Mai Thailand
February 1, 2023
5:30 pm -
7:00 pm
- with Yoga Class Focus – Yoga Anatomy Flow
- at Wild Rose Yoga Studio Chiang Mai Thailand
February 2, 2023
8:00 am -
9:30 am
- with Ayurvedic Yoga Flow
- at Wild Rose Yoga Studio Chiang Mai Thailand
February 3, 2023
10:00 am -
11:30 am
- with Yoga Class Focus – Yoga Anatomy Flow
- at Wild Rose Yoga Studio Chiang Mai Thailand
February 8, 2023
5:30 pm -
7:00 pm
- with Yoga Class Focus – Yoga Anatomy Flow
- at Wild Rose Yoga Studio Chiang Mai Thailand
February 9, 2023
8:00 am -
9:30 am
- with Yoga Class Focus – Yoga Anatomy Flow
- at Wild Rose Yoga Studio Chiang Mai Thailand
February 10, 2023
10:00 am -
11:30 am
- with Yoga Class Focus – Yoga Anatomy Flow
- at Wild Rose Yoga Studio Chiang Mai Thailand
February 16, 2023
8:00 am -
9:30 am
- with Yoga Class Focus – Yoga Anatomy Flow
- at Wild Rose Yoga Studio Chiang Mai Thailand
February 15, 2023
5:30 pm -
7:00 pm
- with Yoga Class Focus – Yoga Anatomy Flow
- at Wild Rose Yoga Studio Chiang Mai Thailand
February 17, 2023
10:00 am -
11:30 am
- with Yoga Class Focus – Yoga Anatomy Flow
- at Wild Rose Yoga Studio Chiang Mai Thailand
February 22, 2023
5:30 pm -
7:00 pm
- with Yoga Class Focus – Yoga Anatomy Flow
- at Wild Rose Yoga Studio Chiang Mai Thailand
February 23, 2023
8:00 am -
9:30 am
- with Yoga Class Focus – Yoga Anatomy Flow
- at Wild Rose Yoga Studio Chiang Mai Thailand
February 24, 2023
10:00 am -
11:30 am
- with Yoga Class Focus – Yoga Anatomy Flow
- at Wild Rose Yoga Studio Chiang Mai Thailand
March 1, 2023
5:30 pm -
7:00 pm
- with Yoga Class Focus – Yoga Anatomy Flow
- at Wild Rose Yoga Studio Chiang Mai Thailand
March 2, 2023
8:00 am -
9:30 am
- with Yoga Class Focus – Yoga Anatomy Flow
- at Wild Rose Yoga Studio Chiang Mai Thailand
March 3, 2023
10:00 am -
11:30 am
- with Yoga Class Focus – Yoga Anatomy Flow
- at Wild Rose Yoga Studio Chiang Mai Thailand
March 8, 2023
5:30 pm -
7:00 pm
- with Yoga Class Focus – Yoga Anatomy Flow
- at Wild Rose Yoga Studio Chiang Mai Thailand
Pre-Booking Required For All Classes