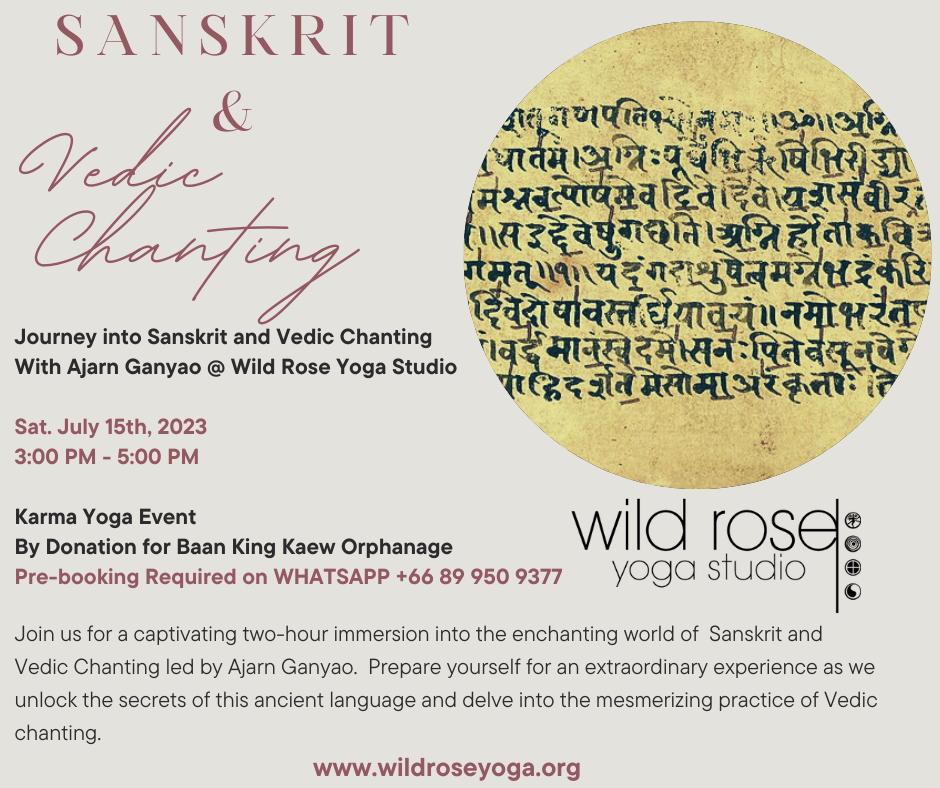 A by donation event all proceeds will go to  Workshop. Not applicable to Class Pass
PRE-BOOKING REQUIRED by DM to WHATSAPP + 66 89 950 9377
Journey into Sanskrit & Vedic Chanting, A Karma Yoga Event
Karma Yoga Event by Donation, proceeds for Baan King Kaew Orphanage
Suggested donation 200 THB
Pre-booking Required by Fri. 14th July @ 8 PM
WHATSAPP +66 89 950 9377
Join us for a captivating two-hour immersion into the enchanting world of  Sanskrit and the art of Vedic chanting, led by the esteemed teacher, Ajarn Ganyao. Prepare yourself for an extraordinary experience as we unlock the secrets of this ancient language and delve into the mesmerizing practice of Vedic chanting.
Expert guidance by Ajan Ganyao, a seasoned practitioner with over 30 years of experience, will be your guide on this mystical journey. With his deep knowledge of Vedānta, Vedic chanting (from the South Indian Kṛṣṇa Yajur Veda lineage), and Sanskrit, he shares his wisdom and insights, ensuring an enlightening and transformative experience for all participants.
Each participant will receive a complimentary copy of the booklet 'A Brief Introduction to Sanskrit Pronunciation.' This invaluable resource will serve as your companion on your Sanskrit learning journey, providing essential tools for beginning the journey mastering the language.
Pre-Booking Required For All Classes