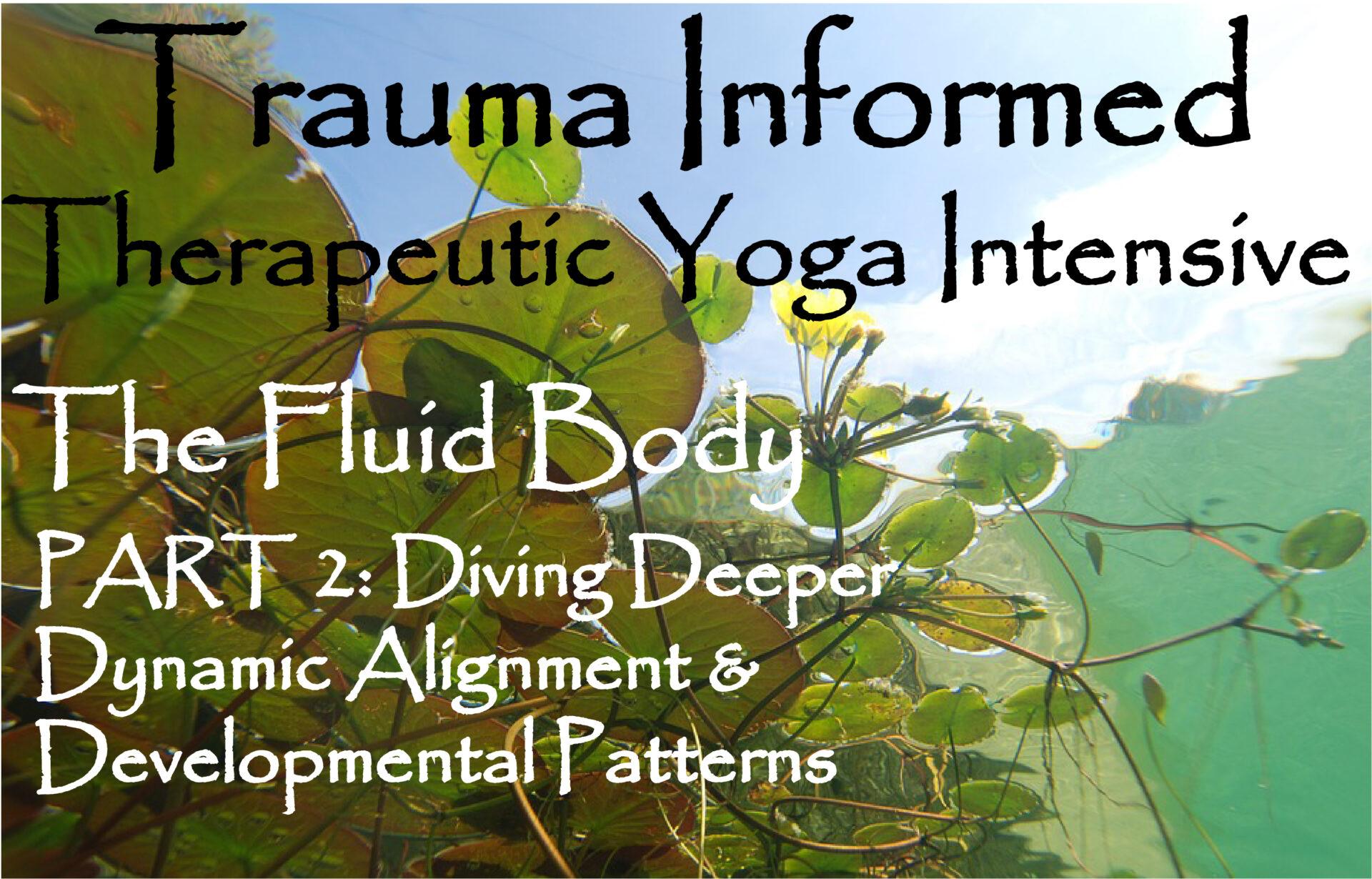 Foundations of an Embodiment Yoga Practice
PART 2: DIVING DEEPER
DYNAMIC ALIGNMENT
&
DEVELOPMENTAL PATTERNS
Mon. Feb. 10th – Tue. Feb. 11th 2020
12:00 pm – 5:00 pm
(10 hours) 
* CEUS (Continuing Educational Units) Available for Yoga Teachers taking full course.
Part Two – Diving deeper: Dynamic Alignment & Developmental Patterns (+10 hours)
Upper body alignment: Explore pathways and relationships between the diaphragm, lungs, heart, in support of the head and neck, ribs, shoulders and arms, cervical and thoracic spine.
Lower body alignment: Explore pathways and relationships between the abdominal organs, digestive tract, and pelvic diaphragm in support of the lumbar and sacral spine, pelvis, legs and feet.
Postural assessments: developing a clearer understanding of postural habits and holding patterns through a holistic lens of our body-mind.

Embryology & Developmental Patterns exploration: understanding the origins of movement & our biological support systems
This trauma-informed yoga intensive will shine a light on our habitual but unconscious neurological patterning that manifest into how we move through life – our breath, posturing, reactivity, and relationship to self and others.
We will learn mind-body techniques that hone our sensory awareness to awaken our patterns of behavior, stimulate homeostatic mechanisms and improve the regulation of our autonomic nervous system.
These patterns emerge deep from our life's experiences, predisposition, developmentally, and through the filters of our perceptions, conditioning and our conceived reality. They also shape our expression and communication with the outer world.
Our body is made up of two-third fluids just as the planet we inhabit.
Organs, fascia, blood, lymph, cerebral spinal fluids form our fluid-filled internal environment. Integrated through the various structures systems of our body, these fluids support our three-dimensional movement, providing fullness and buoyancy from within, and give us new experiences of volume, fluidity, and connectivity.
When we are able to differentiate and integrate these systems, illuminate internal relationships and pathways from inner to outer expression, create new ways to experience our authentic nature, as well as regulate the inflammatory and immune responses, and maintain proper organ and metabolic functions.
Bringing together movement, breath and bodywork This workshop will hone your kinaesthetic awareness of multiple body systems,  and offer new perspective on yoga, alignment, movement, breath, and touch.
You will learn to sense and explore movement through the fluid content of the body, learn how to cultivate a mindful and practical dialogue in healing from pain, injuries, anxiety & stress, and explore intuitive and embodied ways to integrate this information into your practice and teaching:
About the teacher:     Daphne Chua
INTEGRATING BODYWORK, YOGA & MOVEMENT THERAPY
Accommodation Recommendations ~ 
(accommodation not included)
After checking a few of the places near Wild Rose Yoga Studio and checking available dates of Feb. 6th – Morning of Feb. 12th ,60 Blue House is close, clean and simple.
Several students of WRYS have stayed there and enjoyed their time there and it is about a 7 minute walk to WRYS.
Our favorite place to send friends and family is Good Morning Chiang Mai/ Tropical Inn, Agoda says it is sold out but I talked to the staff and they have a room available for 1800 THB a night including breakfast. If, interested I can go to Good Morning Chiang Mai and make your reservation personally.
Another place you might try that is close to WRYS is Pai Residence Chiang Mai.
Our great pick that is about a 3 minute walk to WRYS in an ALL WOMEN Hostel  Room setting is 33 Poshtel. Located a small walk to WRYS 33 Poshtel has a nice small swimming pool, communal kitchen and clean fun and trendy decor.
We are located in the South Gate (Chiang Mai Gate) Area of the Old City in Chiang Mai with many places to pick from we suggest hostelworld to look over for additional option and also
Travelfish.org has another list of places to stay.
Payment  
COURSE TWO CAN ONLY BE TAKEN BY CONTINUING STUDENTS OF COURSE ONE
Full Course Early Bird: FULL 5 DAY SESSION,  10500 THB , Until Jan. 1st 2020 and paid in Full.
 Full Course: FULL 5 DAY SESSION REGULAR :12000 THB 
Payments will be made in person or by transfer, Paypal or Transferwise payment to our Bangkok Bank Business account.
Participants are responsible for all fees and charges  ( sending and receiving fees) that are added – outstanding balances can be made in cash upon the first day of the course.
To Receive the Early Bird Price, payment must be paid in Full by Jan. 1st.
50% non-refundable deposit is required for formal confirmation of place in the course, by Jan. 15th.    Balance is due in cash upon arrival on Feb. 7th at check in.
___________________________
Please reach out to Rose if you have any questions, wildroseyoga@gmail.com 
This course is for yoga practitioners, yoga teachers, athletes, dancers, bodyworkers, healthcare providers, social workers etc… who have an interest in exploring the embodied biological process so we can learn to regulate our stress response, and move through life with greater ease and resilience.
A certification of Continuing Education Units will be given upon completion of full 25 hours. 
You will be able to apply these tools for teaching yoga or movement, self-care, or in offering bodywork to support your clients and your loved ones.
Pre-Booking Required For All Classes