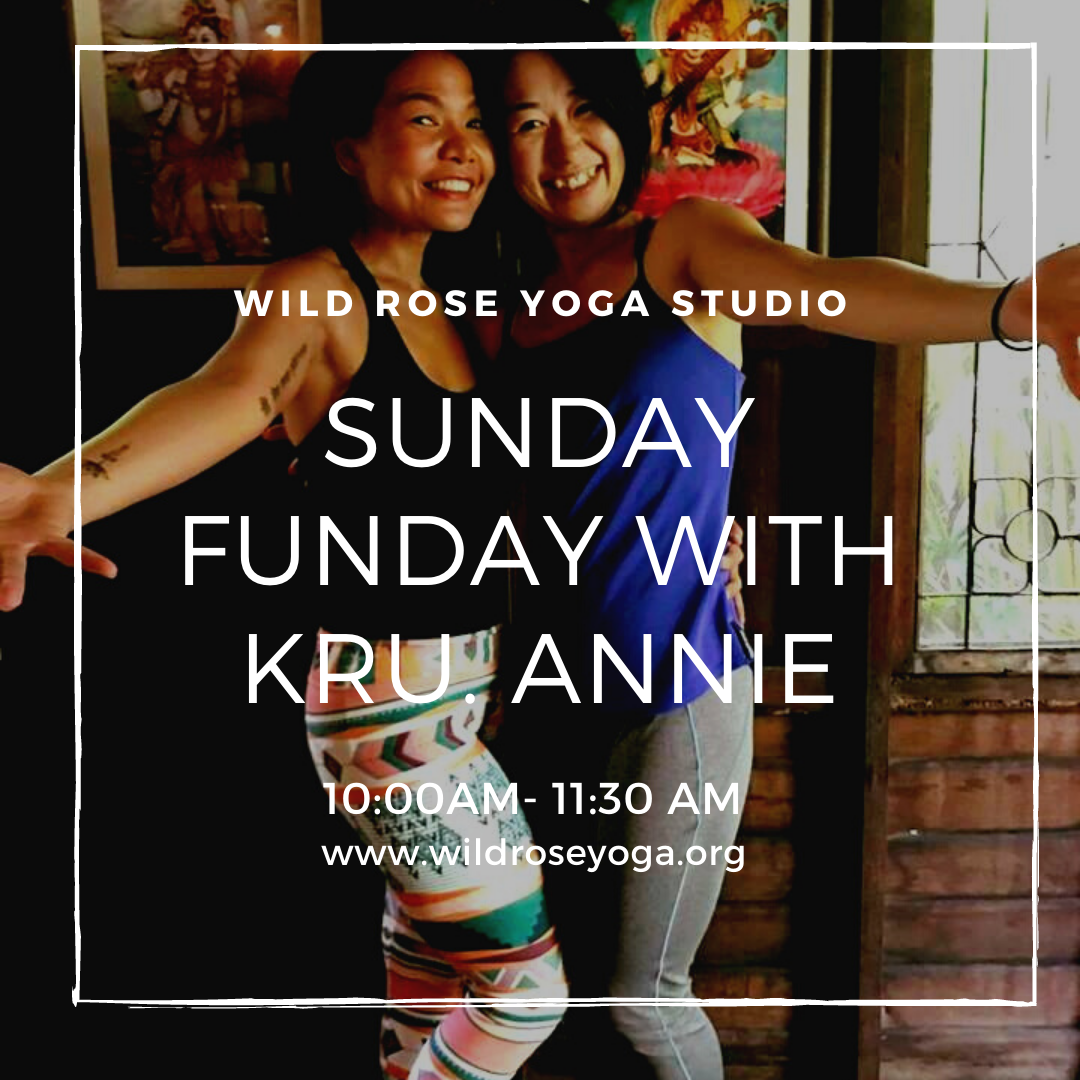 * 300 THB Drop-in or Class Pass Inclusive
PRE-BOOKING REQUIRED 
 NEW STUDENTS PLEASE ARRIVE 30 MINS. BEFORE A CLASS for CHECK IN AND PAYMENT
Vinyasa Flow with Kru. Annie explores a wide scope of yoga techniques to deepen your yoga practice.
In this intermediate level yoga class Kru. Annie takes the time to guide students through a well-rounded and invigorating  vinyasa yoga practice.
This class explores variations and transitions through a playful yoga flow.
Class Timetable
| | Open Time | Close Time | Trainer | Address |
| --- | --- | --- | --- | --- |
| April 4, 2019 | 5:30 pm | 7:00 pm | Yoga Class Focus – Evening Vinyasa Flow Yoga | Wild Rose Yoga Studio Chiang Mai Thailand |
| July 28, 2023 | 10:00 am | 11:30 am | Yoga Class Focus – Vinyasa Flow Kru. Annie | Wild Rose Yoga Studio Chiang Mai Thailand |
| July 30, 2023 | 10:00 am | 11:30 am | Yoga Class Focus – Fusion Vinyasa Flow | Wild Rose Yoga Studio Chiang Mai Thailand |
| August 4, 2023 | 10:00 am | 11:30 am | Yoga Class Focus – Vinyasa Flow Kru. Annie | Wild Rose Yoga Studio Chiang Mai Thailand |
| August 6, 2023 | 10:00 am | 11:30 am | Yoga Class Focus – Vinyasa Flow Kru. Annie | Wild Rose Yoga Studio Chiang Mai Thailand |
| August 11, 2023 | 10:00 am | 11:30 am | Yoga Class Focus – Vinyasa Flow Kru. Annie | Wild Rose Yoga Studio Chiang Mai Thailand |
| August 13, 2023 | 10:00 am | 11:30 am | Yoga Class Focus – Vinyasa Flow Kru. Annie | Wild Rose Yoga Studio Chiang Mai Thailand |
| August 18, 2023 | 10:00 am | 11:30 am | Yoga Class Focus – Vinyasa Flow Kru. Annie | Wild Rose Yoga Studio Chiang Mai Thailand |
| August 20, 2023 | 10:00 am | 11:30 am | Yoga Class Focus – Vinyasa Flow Kru. Annie | Wild Rose Yoga Studio Chiang Mai Thailand |
| August 25, 2023 | 10:00 am | 11:30 am | Yoga Class Focus – Vinyasa Flow Kru. Annie | Wild Rose Yoga Studio Chiang Mai Thailand |
| August 27, 2023 | 10:00 am | 11:30 am | Yoga Class Focus – Vinyasa Flow Kru. Annie | Wild Rose Yoga Studio Chiang Mai Thailand |
| September 1, 2023 | 10:00 am | 11:30 am | Yoga Class Focus – Vinyasa Flow Kru. Annie | Wild Rose Yoga Studio Chiang Mai Thailand |
| September 3, 2023 | 10:00 am | 11:30 am | Yoga Class Focus – Vinyasa Flow Kru. Annie | Wild Rose Yoga Studio Chiang Mai Thailand |
| September 8, 2023 | 10:00 am | 11:30 am | Yoga Class Focus – Vinyasa Flow Kru. Annie | Wild Rose Yoga Studio Chiang Mai Thailand |
| September 10, 2023 | 10:00 am | 11:30 am | Yoga Class Focus – Vinyasa Flow Kru. Annie | Wild Rose Yoga Studio Chiang Mai Thailand |
| September 15, 2023 | 10:00 am | 11:30 am | Yoga Class Focus – Vinyasa Flow Kru. Annie | Wild Rose Yoga Studio Chiang Mai Thailand |
| September 17, 2023 | 10:00 am | 11:30 am | Yoga Class Focus – Vinyasa Flow Kru. Annie | Wild Rose Yoga Studio Chiang Mai Thailand |
| September 22, 2023 | 10:00 am | 11:30 am | Yoga Class Focus – Vinyasa Flow Kru. Annie | Wild Rose Yoga Studio Chiang Mai Thailand |
| September 24, 2023 | 10:00 am | 11:30 am | Yoga Class Focus – Vinyasa Flow Kru. Annie | Wild Rose Yoga Studio Chiang Mai Thailand |
| September 29, 2023 | 10:00 am | 11:30 am | Yoga Class Focus – Vinyasa Flow Kru. Annie | Wild Rose Yoga Studio Chiang Mai Thailand |
| October 1, 2023 | 10:00 am | 11:30 am | Yoga Class Focus – Vinyasa Flow Kru. Annie | Wild Rose Yoga Studio Chiang Mai Thailand |
| October 6, 2023 | 10:00 am | 11:30 am | Yoga Class Focus – Vinyasa Flow Kru. Annie | Wild Rose Yoga Studio Chiang Mai Thailand |
| October 8, 2023 | 10:00 am | 11:30 am | Yoga Class Focus – Vinyasa Flow Kru. Annie | Wild Rose Yoga Studio Chiang Mai Thailand |
| October 13, 2023 | 10:00 am | 11:30 am | Yoga Class Focus – Fusion Vinyasa Flow | Wild Rose Yoga Studio Chiang Mai Thailand |
April 4, 2019
5:30 pm -
7:00 pm
- with Yoga Class Focus – Evening Vinyasa Flow Yoga
- at Wild Rose Yoga Studio Chiang Mai Thailand
July 28, 2023
10:00 am -
11:30 am
- with Yoga Class Focus – Vinyasa Flow Kru. Annie
- at Wild Rose Yoga Studio Chiang Mai Thailand
July 30, 2023
10:00 am -
11:30 am
- with Yoga Class Focus – Fusion Vinyasa Flow
- at Wild Rose Yoga Studio Chiang Mai Thailand
August 4, 2023
10:00 am -
11:30 am
- with Yoga Class Focus – Vinyasa Flow Kru. Annie
- at Wild Rose Yoga Studio Chiang Mai Thailand
August 6, 2023
10:00 am -
11:30 am
- with Yoga Class Focus – Vinyasa Flow Kru. Annie
- at Wild Rose Yoga Studio Chiang Mai Thailand
August 11, 2023
10:00 am -
11:30 am
- with Yoga Class Focus – Vinyasa Flow Kru. Annie
- at Wild Rose Yoga Studio Chiang Mai Thailand
August 13, 2023
10:00 am -
11:30 am
- with Yoga Class Focus – Vinyasa Flow Kru. Annie
- at Wild Rose Yoga Studio Chiang Mai Thailand
August 18, 2023
10:00 am -
11:30 am
- with Yoga Class Focus – Vinyasa Flow Kru. Annie
- at Wild Rose Yoga Studio Chiang Mai Thailand
August 20, 2023
10:00 am -
11:30 am
- with Yoga Class Focus – Vinyasa Flow Kru. Annie
- at Wild Rose Yoga Studio Chiang Mai Thailand
August 25, 2023
10:00 am -
11:30 am
- with Yoga Class Focus – Vinyasa Flow Kru. Annie
- at Wild Rose Yoga Studio Chiang Mai Thailand
August 27, 2023
10:00 am -
11:30 am
- with Yoga Class Focus – Vinyasa Flow Kru. Annie
- at Wild Rose Yoga Studio Chiang Mai Thailand
September 1, 2023
10:00 am -
11:30 am
- with Yoga Class Focus – Vinyasa Flow Kru. Annie
- at Wild Rose Yoga Studio Chiang Mai Thailand
September 3, 2023
10:00 am -
11:30 am
- with Yoga Class Focus – Vinyasa Flow Kru. Annie
- at Wild Rose Yoga Studio Chiang Mai Thailand
September 8, 2023
10:00 am -
11:30 am
- with Yoga Class Focus – Vinyasa Flow Kru. Annie
- at Wild Rose Yoga Studio Chiang Mai Thailand
September 10, 2023
10:00 am -
11:30 am
- with Yoga Class Focus – Vinyasa Flow Kru. Annie
- at Wild Rose Yoga Studio Chiang Mai Thailand
September 15, 2023
10:00 am -
11:30 am
- with Yoga Class Focus – Vinyasa Flow Kru. Annie
- at Wild Rose Yoga Studio Chiang Mai Thailand
September 17, 2023
10:00 am -
11:30 am
- with Yoga Class Focus – Vinyasa Flow Kru. Annie
- at Wild Rose Yoga Studio Chiang Mai Thailand
September 22, 2023
10:00 am -
11:30 am
- with Yoga Class Focus – Vinyasa Flow Kru. Annie
- at Wild Rose Yoga Studio Chiang Mai Thailand
September 24, 2023
10:00 am -
11:30 am
- with Yoga Class Focus – Vinyasa Flow Kru. Annie
- at Wild Rose Yoga Studio Chiang Mai Thailand
September 29, 2023
10:00 am -
11:30 am
- with Yoga Class Focus – Vinyasa Flow Kru. Annie
- at Wild Rose Yoga Studio Chiang Mai Thailand
October 1, 2023
10:00 am -
11:30 am
- with Yoga Class Focus – Vinyasa Flow Kru. Annie
- at Wild Rose Yoga Studio Chiang Mai Thailand
October 6, 2023
10:00 am -
11:30 am
- with Yoga Class Focus – Vinyasa Flow Kru. Annie
- at Wild Rose Yoga Studio Chiang Mai Thailand
October 8, 2023
10:00 am -
11:30 am
- with Yoga Class Focus – Vinyasa Flow Kru. Annie
- at Wild Rose Yoga Studio Chiang Mai Thailand
October 13, 2023
10:00 am -
11:30 am
- with Yoga Class Focus – Fusion Vinyasa Flow
- at Wild Rose Yoga Studio Chiang Mai Thailand
Pre-Booking Required For All Classes