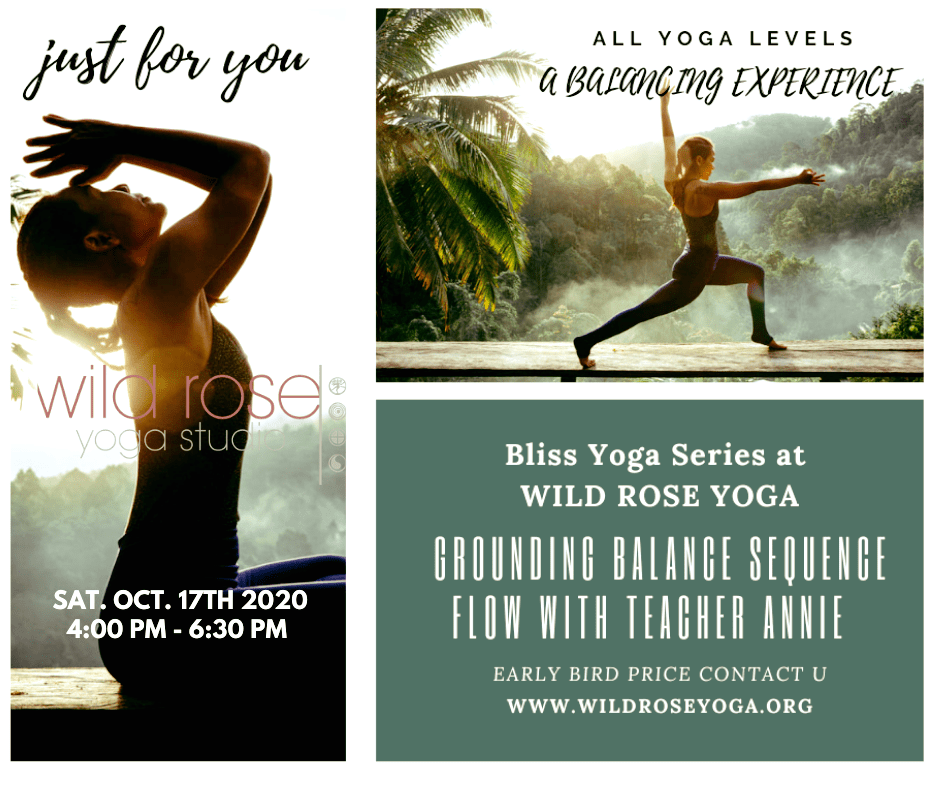 Bliss Yoga Series Classes at Wild Rose Yoga Studio with teacher ANNIE.
Sat. Oct. 17th: Grounding Balance Sequence Flow ( All Yoga Levels).
Sat. Oct. 24th: Arm Balances, Inversions and Backbends. (Intermediate Beginner – Intermediate Level).
Investment Single Session :
Early-Bird Price: 250 THB
Regular Price 350 THB
Both Sessions available for 500 THB paid in Full on Oct. 17th at Wild Rose Yoga Studio.
Grounding Balance Sequence by teacher Annie offers a Bliss Yoga Sequence Series yoga studies class for All yoga levels. Join us on Sat. Oct. 17th for an afternoon yoga session. 
In this yoga class we build a grounding practice to bring us awareness and pause to the elements of yoga that support us for a grounding balancing yoga flow open to all yoga levels. 
WHAT will Bliss Yoga Series Workshop Classes Cover? Join us for workshop based classes focusing on movement, flow and the connection of movement and breath to deepen your yoga practice and take it to the next level.
Join us also for ARM BALANCES, INVERSIONS and BACKBENDS with teacher Annie, Sat.Oct. 24th at Wild Rose Yoga Studio is a workshop based yoga class for intermediate beginner to intermediate yoga students seeking to deepen their ability with these intermediate yoga postures. LIMITED SPACE for this session, please contact us before hand if possible.
Kru. Annie will offer modifications in the arm balances, inversions & backbend session to support the students needs and will offer variations of expressions in a support, thoughtful and safe environment. We look forward to welcoming you for either 1 session or both sessions.
Early – Bird Price available if signed up and paid for 2 -Days before Workshop. Payments can be made at the studio or direct bank deposit.
Pre-Booking Required For All Classes