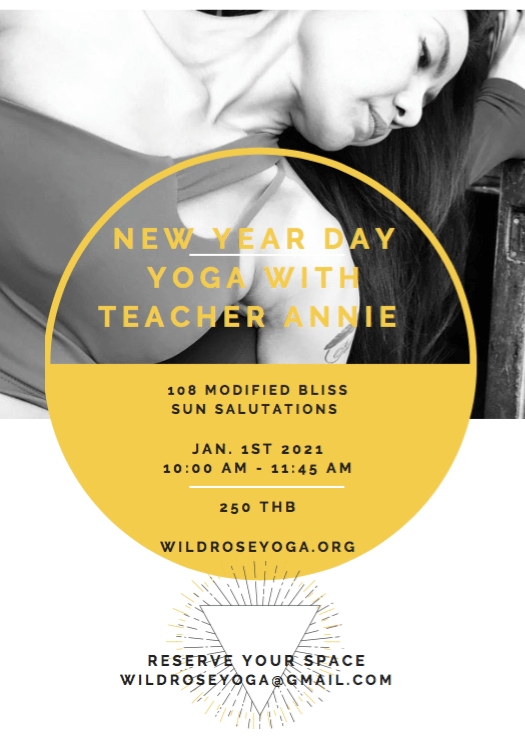 * 250 Baht Drop-in or Class Pass Inclusive
PLEASE  PRE-BOOK or ARRIVE 30 MINS. BEFORE this CLASS.
Come home to the breath and awaken into the movement of a New Year yoga class.
New Year Day 108 modified Sun Salutations is a New Year yoga class with 12 rounds of Sun Salutations lead by teacher Annie. Each sequence has 9 rounds and variations into a peak pose. Teacher Annie will attribute a name for each each sequence with a focus on an inspirational power for blessing each month of the incoming year.
Join us as we start the New Year awakening and inviting the smooth connective flow of fluid nourishing breath with the resonating rhythmic essence of mantra.
Open the Door to the new year in with focus and awareness through  accessible yoga sequencing with modifications offered for your individual preference on this day.
Join teacher Annie as she offers up a gift to you through yoga and yoga photography ( for those interested in being photographed after class).
We welcome all yoga levels to join in this New Years 108 Modified Bliss Sun Salutation with teacher Annie @ Wild Rose Yoga Chiang Mai.
Pre-Booking Required For All Classes