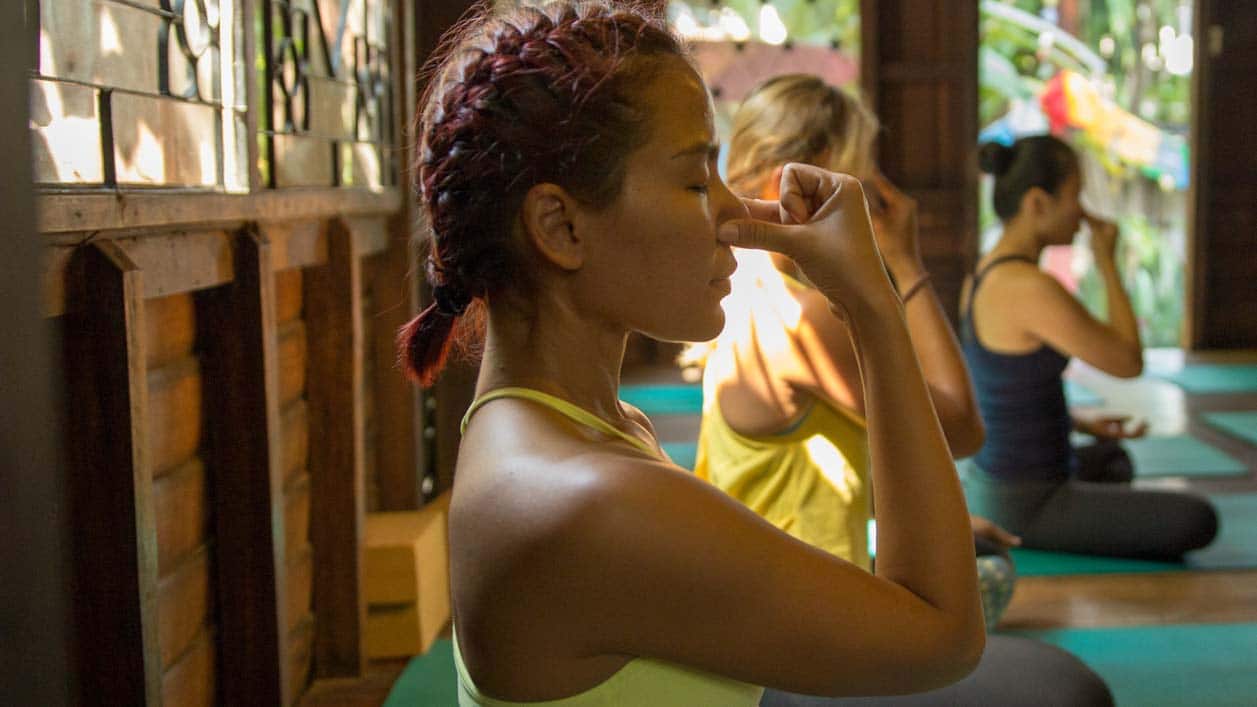 *Class Pass Inclusive or 250 Baht
Join us for Ashtanga Influenced Vinyasa Yoga Class with Kru. Annie.  Start the day with a multi-level yoga class emphasised to improve your vinyasa  yoga practice. 
In this yoga class we integrate Primary Ashtanga Yoga vinyasa and include arm balances, inversions and yoga practicum work.
A Multi-Level  Drop-in Yoga Class in Chiang Mai.
Class Timetable
| | Open Time | Close Time | Trainer | Address |
| --- | --- | --- | --- | --- |
| April 2, 2019 | 8:00 am | 9:30 am | Yoga Class Focus – Ashtanga Influenced Vinyasa Yoga | Wild Rose Yoga Studio Chiang Mai Thailand |
| November 1, 2019 | 8:00 am | 9:30 am | Yoga Class Focus – Ashtanga Influenced Vinyasa Yoga | Wild Rose Yoga Studio Chiang Mai Thailand |
| November 5, 2019 | 8:00 am | 9:30 am | Yoga Class Focus – Ashtanga Influenced Vinyasa Yoga | Wild Rose Yoga Studio Chiang Mai Thailand |
| November 15, 2019 | 8:00 am | 9:30 am | Yoga Class Focus – Ashtanga Influenced Vinyasa Yoga | Wild Rose Yoga Studio Chiang Mai Thailand |
| November 19, 2019 | 8:00 am | 9:30 am | Yoga Class Focus – Ashtanga Influenced Vinyasa Yoga | Wild Rose Yoga Studio Chiang Mai Thailand |
| November 26, 2019 | 8:00 am | 9:30 am | Yoga Class Focus – Ashtanga Influenced Vinyasa Yoga | Wild Rose Yoga Studio Chiang Mai Thailand |
| November 29, 2019 | 8:00 am | 9:30 am | Yoga Class Focus – Ashtanga Influenced Vinyasa Yoga | Wild Rose Yoga Studio Chiang Mai Thailand |
| December 3, 2019 | 8:00 am | 9:30 am | Yoga Class Focus – Ashtanga Influenced Vinyasa Yoga | Wild Rose Yoga Studio Chiang Mai Thailand |
| December 6, 2019 | 8:00 am | 9:30 am | Yoga Class Focus – Ashtanga Influenced Vinyasa Yoga | Wild Rose Yoga Studio Chiang Mai Thailand |
| December 10, 2019 | 8:00 am | 9:30 am | ํYoga Class Focus – Ashtanga Fusion Vinyasa w/ Dutchi | wild rose yoga chiang mai |
| December 13, 2019 | 8:00 am | 9:30 am | Yoga Class Focus – Ashtanga Influenced Vinyasa Yoga | Wild Rose Yoga Studio Chiang Mai Thailand |
| December 17, 2019 | 8:00 am | 9:30 am | Yoga Class Focus – Ashtanga Influenced Vinyasa Yoga | Wild Rose Yoga Studio Chiang Mai Thailand |
| December 20, 2019 | 8:00 am | 9:30 am | Yoga Class Focus – Ashtanga Influenced Vinyasa Yoga | Wild Rose Yoga Studio Chiang Mai Thailand |
| December 24, 2019 | 8:00 am | 9:30 am | Yoga Class Focus – Ashtanga Influenced Vinyasa Yoga | Wild Rose Yoga Studio Chiang Mai Thailand |
| December 27, 2019 | 8:00 am | 9:30 am | Yoga Class Focus – Ashtanga Influenced Vinyasa Yoga | Wild Rose Yoga Studio Chiang Mai Thailand |
| December 31, 2019 | 8:00 am | 9:30 am | Yoga Class Focus – Ashtanga Influenced Vinyasa Yoga | Wild Rose Yoga Studio Chiang Mai Thailand |
| January 3, 2020 | 8:00 am | 9:30 am | Yoga Class Focus – Ashtanga Influenced Vinyasa Yoga | Wild Rose Yoga Studio Chiang Mai Thailand |
| January 10, 2020 | 4:56 pm | 9:30 am | Yoga Class Focus – Ashtanga Influenced Vinyasa Yoga | Wild Rose Yoga Studio Chiang Mai Thailand |
| January 21, 2020 | 8:00 am | 9:30 am | ํYoga Class Focus – Ashtanga Fusion Vinyasa w/ Dutchi | Wild Rose Yoga Studio Chiang Mai Thailand |
April 2, 2019
8:00 am -
9:30 am
- with Yoga Class Focus – Ashtanga Influenced Vinyasa Yoga
- at Wild Rose Yoga Studio Chiang Mai Thailand
November 1, 2019
8:00 am -
9:30 am
- with Yoga Class Focus – Ashtanga Influenced Vinyasa Yoga
- at Wild Rose Yoga Studio Chiang Mai Thailand
November 5, 2019
8:00 am -
9:30 am
- with Yoga Class Focus – Ashtanga Influenced Vinyasa Yoga
- at Wild Rose Yoga Studio Chiang Mai Thailand
November 15, 2019
8:00 am -
9:30 am
- with Yoga Class Focus – Ashtanga Influenced Vinyasa Yoga
- at Wild Rose Yoga Studio Chiang Mai Thailand
November 19, 2019
8:00 am -
9:30 am
- with Yoga Class Focus – Ashtanga Influenced Vinyasa Yoga
- at Wild Rose Yoga Studio Chiang Mai Thailand
November 26, 2019
8:00 am -
9:30 am
- with Yoga Class Focus – Ashtanga Influenced Vinyasa Yoga
- at Wild Rose Yoga Studio Chiang Mai Thailand
November 29, 2019
8:00 am -
9:30 am
- with Yoga Class Focus – Ashtanga Influenced Vinyasa Yoga
- at Wild Rose Yoga Studio Chiang Mai Thailand
December 3, 2019
8:00 am -
9:30 am
- with Yoga Class Focus – Ashtanga Influenced Vinyasa Yoga
- at Wild Rose Yoga Studio Chiang Mai Thailand
December 6, 2019
8:00 am -
9:30 am
- with Yoga Class Focus – Ashtanga Influenced Vinyasa Yoga
- at Wild Rose Yoga Studio Chiang Mai Thailand
December 10, 2019
8:00 am -
9:30 am
- with ํYoga Class Focus – Ashtanga Fusion Vinyasa w/ Dutchi
- at wild rose yoga chiang mai
December 13, 2019
8:00 am -
9:30 am
- with Yoga Class Focus – Ashtanga Influenced Vinyasa Yoga
- at Wild Rose Yoga Studio Chiang Mai Thailand
December 17, 2019
8:00 am -
9:30 am
- with Yoga Class Focus – Ashtanga Influenced Vinyasa Yoga
- at Wild Rose Yoga Studio Chiang Mai Thailand
December 20, 2019
8:00 am -
9:30 am
- with Yoga Class Focus – Ashtanga Influenced Vinyasa Yoga
- at Wild Rose Yoga Studio Chiang Mai Thailand
December 24, 2019
8:00 am -
9:30 am
- with Yoga Class Focus – Ashtanga Influenced Vinyasa Yoga
- at Wild Rose Yoga Studio Chiang Mai Thailand
December 27, 2019
8:00 am -
9:30 am
- with Yoga Class Focus – Ashtanga Influenced Vinyasa Yoga
- at Wild Rose Yoga Studio Chiang Mai Thailand
December 31, 2019
8:00 am -
9:30 am
- with Yoga Class Focus – Ashtanga Influenced Vinyasa Yoga
- at Wild Rose Yoga Studio Chiang Mai Thailand
January 3, 2020
8:00 am -
9:30 am
- with Yoga Class Focus – Ashtanga Influenced Vinyasa Yoga
- at Wild Rose Yoga Studio Chiang Mai Thailand
January 10, 2020
4:56 pm -
9:30 am
- with Yoga Class Focus – Ashtanga Influenced Vinyasa Yoga
- at Wild Rose Yoga Studio Chiang Mai Thailand
January 21, 2020
8:00 am -
9:30 am
- with ํYoga Class Focus – Ashtanga Fusion Vinyasa w/ Dutchi
- at Wild Rose Yoga Studio Chiang Mai Thailand